Conway Castle

October 10, 1967

We were walking in the hills above Conway and got this memorable view of the town and the Conway Castle. This picture is from the top of Conway Mountain.

Conway Castle has the round turrets which I have always associated with castles. It connects to a town wall which extended all the way around the old city. You have to go through this wall on the highway through Conway and many parts of the wall still stand.
This is a very different view of the Conway Castle, standing darkly in the shadows on the estuary of the river at Conway. March 26, 1967. We had driven around the coast of North Wales, visiting Llandudno, Penmenmawr, and Deganwy.
The map shows the location of Conway Castle and the Great Orme Head.

The viewpoints for the two photos below are also shown.
This shows the Great Orme Head and the town of Llandudno as seen from the Little Orme. The viewpoint is shown on the map above. The Great Orme Head could be seen from Beaumaris where we lived.
Back on October 22 of 1966 we had hiked around on the Great Orme Head and had visited this small chapel in the cemetary of St. Tudno's Church there. On that occasion we had driven to Llandudno and done some shopping and then drove around the marine drive which circles the Great Orme Head, a huge outcropping of rock. The drive alone the seaside is very pleasant and the pretty St Tudno's Church is along the road. A sign claims that this has been a place of worship for 1400 years! We drove through the small village on the Head and found a place where we could see Llandudno, Conway and points up the Menai Strait. On the trip we went through Conway and passed the famous Conway Castle. We returned via the Sychnant Pass which is very beautiful and offers a good place for some climbing.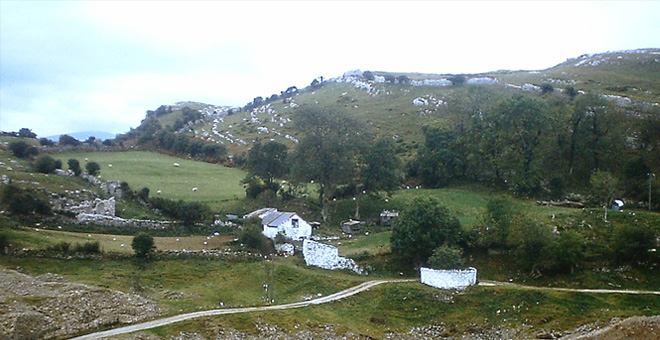 This was a cross-country view on the Great Orme Head. There was lots of white stone, some of it in fences, some in houses, and some in old ruins. There were the everpresent sheep, but at times it was difficult to tell the sheep from the stones at a distance.
The coastline was very rugged, often with cliffs to the sea.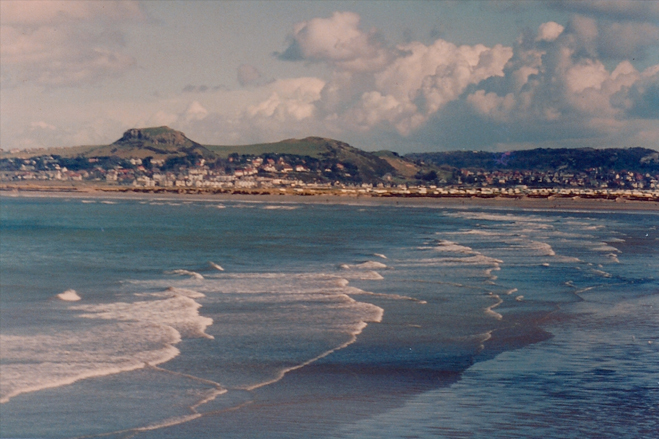 This is a view across the Conway Sands and the Conway estuary to the town of Deganwy and the beach there.