Christmas Visit to London
Brenda had a friend, Mimi Hunt, who was in London for the year with her husband Bill. They invited us down during the Christmas holidays, we enjoyed a visit to London. We had spent less than 24 hours there on the way to Wales, so we were pleased to take a little closer look.
We were pleased to get to walk along the Thames River and see the Tower Bridge and the other famous sights of London.
The sight of Big Ben and the Parliment buildings was like seeing old friends, even though we had never stood there before.
A red double-decked London bus crosses the stories London Bridge across the ageless River Thames.
| | |
| --- | --- |
| | On a visit to the London Zoo, we enjoyed the aviary. This was one of the birds there - not really a spectacular species, but I have always liked this picture. |
While we were in the area of the Tower Bridge, we were able to see it raise while a tug brings a ship through on the Thames River.
There were many famous historical sights to be seen, and we enjoyed them, but the birds in St. James Park were an unexpected treat.
I don't know why I was surprised to see pelicans, but I always thought of them as Florida and warm seas birds. These certainly acted like they knew they belonged here.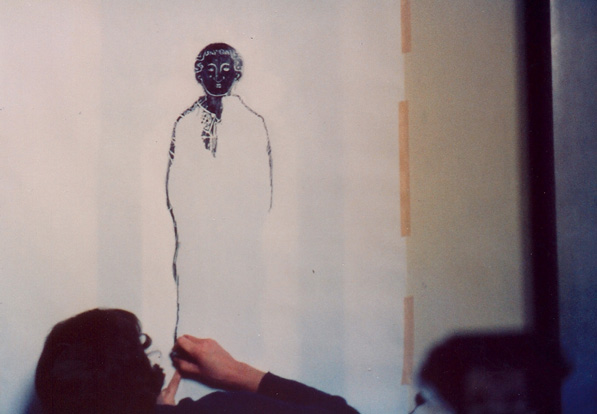 Mimi was into "brass rubbing" and she taught us how to do it. The brass carvings are effigies of people buried there - some are almost life-size. Produced between the 12th and 16th centuries, these brasses supposedly show how the person looked. The manner of dress is quite striking. There are knights, priests, and ladies in grand dresses. Putting a sheet of paper over the brass, you rub with a special wax crayon, leaving the recesses of the etching unwaxed to create the image.
This brass rubbing was done at St. Mary's Church of North Mimms near London on December 30, 1966.