Ida Souther Speer
1924
Four Generations
Grandmother Susie Speer Owsley, Edgar held by mother Naomi Nave, Great-Grandmother Ida Speer
This photograph on our family website led researchers from PeeWee Valley, Kentucky to us and they provided some historical information about the family that I hadn't known. The Souther house in what is now PeeWee Valley subsequently housed the Jennie Casseday Rest Cottage for Working Women for about half a century.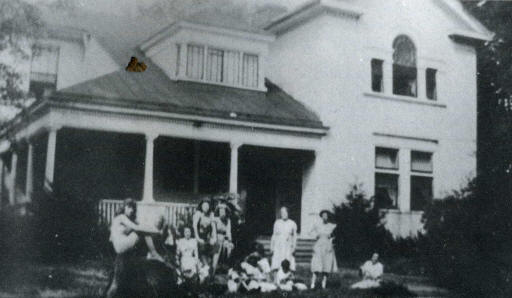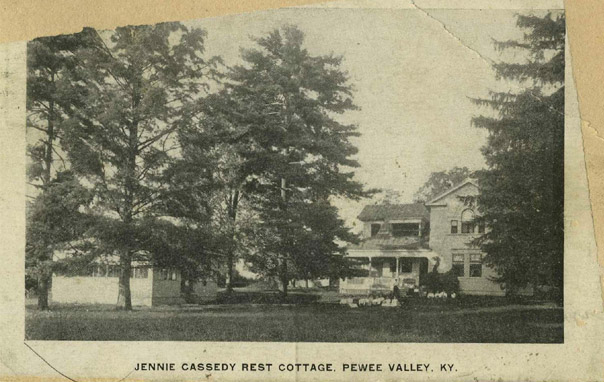 The following is part of the email received from Donna Russell with information gathered there. Donna has created a website devoted to "Annie Fellows Johnston and the Little Colonel Stories" In a telephone conversation on August 22, 2007 Donna commented that the Tanglewood estate owned by the Souther family was featured in the Little Colonel Stories. One of those stories was featured in a movie starring Shirley Temple and Lionel Barrymore. The Tanglewood name can still be found in PeeWee Valley.
Dear Mr. Nave:
I have been asked by the Town of Pewee Valley to try to find the descendents of a Michael and Catherine Souther who owned a farm in Pewee Valley, KY (known sometimes as the Rollington Magisterial District in the census) in the 1830s. We have found some headstones -- but not any graves -- that belonged to their family and would like, if possible, to return them to their rightful owners.
The information below was compiled by M. Jay Stottman as part of an archeological investigation to locate the cemetery itself. He was unable to find the graves where the headstones were located. He used soil core probing around the area of the headstones, surface investigation and backhoe trenching and found no evidence of the graves. He believes the headstones were removed from the original burial place.
This is the information I have about the Southers from his report:
The headstones consist of:
William H. Souther September 2, 1848 - September 9, 1849
George Anna Souther July 18, 1840-August 8, 1849
Roberts M. Souther Feb. 13, 1835- December 18, 1838
Guy Souther June 26, 1837- August 21, 1849

Michael and Catherine Souther lived in what is now Pewee Valley (it wasn't incorporated until 1870) during the 1830s. Michael Souther was the oldest son of Henry and Ann Souther, natives of Culpepper County, Virginia. The Souther family lived in Pewee Valley at least by the 1820s. They had a large land holding in the area and 10 slaves. The Southers owned land in Pewee Valley through the 19th century. Their estate was known as Tanglewood, a name that still represents the last remnant of their property today near St. James Episcopal Church. Michael Souther was born in 1806 in Madison County, Virginia and married Catherine Clore in 1830 in Oldham County, KY.
Catherine was the daughter of Solomon and Rosanna Clore. Solomon died in 1814. They resided on the property in a house that eventually became Rest Cottage, the namesake of current Rest Cottage Lane.
Michael and Catherine had four children from 1835 to 1838, including Robert (b. 1835), Guy (b. 1837), George Anna (b. 1840) and William (b. 1848) who are represented by the headstones. Their last three children all died within months of each other in 1849, George Anna at age 9, Guy at age 12, and William at age 1. The reason for their deaths is unknown, but they more than likely were victims of a common illness. Cholera, yellow fever and typhoid were very common during the 19th century and struck many families. According to the 1850 U.S. Census, Michael and Catherine did not have any children at that time. However, they eventually had two more children, Ida Michael (b. 1853) and Mary (b. 1855).
Michael Souther died in 1859 in Oldham County. The widowed Catherine was listed in the 1860 U.S. Census with her two daughters, Ida and Mary, and $6,600 in real estate and $1,230 in personal property. She was listed again in the 1870 U.S. Census alone and living in Brownsboro, KY. Her two daughters survived childhood and moved on to have families of their own, although I have no information on their married names.
Catherine's brother, Joseph Clore, left the area by the 1860s and moved to Henderson, KY.
Judging from the photo on your web site of Ida M. Souther Speer, your family has a legitimate claim to these headstones. They marked the graves of your great-grandmother's siblings.  
Here is some other information you might like to have:
First, see this 1879 Beers & Langan map of Pewee Valley: http://www.oldlouisville.com/LittleColonel/Map.htm The Souther holdings have been divided up by this time, but you can see remnants of Tanglewood on the map and you can also see the "Warfield" property -- the poet and novelist Catherine Anne Warfield http://www.oldlouisville.com/LittleColonel/People/CAWarfield.htm owned the house at the time the map was drawn up. Copies of this map are available for sale through the Oldham County Historical Society http://www.oldhamcountyhistoricalsociety.org/.
Second, photos of the house that formerly belonged to the Southers as it appeared in the 1890s-1940s when it was Jennie Casseday's Rest Cottage for Working Women http://www.oldlouisville.com/LittleColonel/Places/PeweeValley/JennieCasseday.htm
Please let me know what you want to do about the headstones.
Sincerely yours, Donna Andrews Russell
Edgewood Manor http://www.oldlouisville.com/LittleColonel/Edgewood.htm
114 Edgewood Way
Pewee Valley, KY 40056
Representing the Town of Pewee Valley