Dorothy and Jimmy in St. Charles, Missouri
Dorothy and Jimmy lived in this trailer in St. Charles, Missouri during 1952 with Shirley and Jim. Jimmy worked for McDonald Aircraft as a mechanic. He had been a mechanic in the service. He then went to Olathe, Kansas as a lathe operator.
Dorothy said that this was a birthday party in Olathe, Kansas. My impression was that it was Shirley's birthday and she appears to be about four, so they may have stayed in Kansas for over a year. The same trailer is in the background. I believe it was that trailer that they brought to Mother's house and parked it out by the crepe myrtle bushes next to the driveway. I helped paint it, and that was my first experience with latex paint, which was quite new then.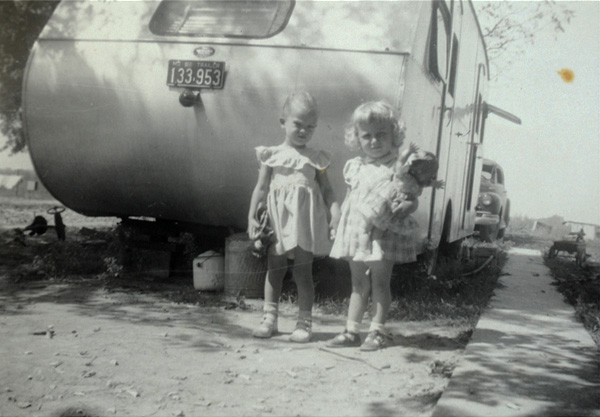 Shirley and friend behind the trailer in Kansas. Dorothy remembers the wind blowing constantly there.