Nave Family Album
1957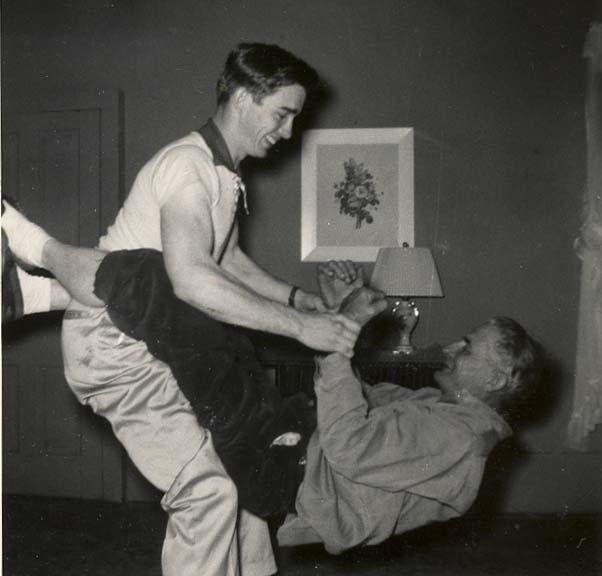 Rod and Dad in a friendly wrestling match in the front room of the house. Labeled May 1957.
The Class of 1957 on "Hobo Day".
Zooming in on Rod in the group picture. The guys there are Russ Morton, standing by Rod, and then Steve Castleberry, Raymond Massey and Jimmy Wilmans in front.
| | |
| --- | --- |
| | |
Rod's senior pictures.

Rod was in competition for both the National Merit Scholarship for which about two per state were awarded, and the General Motors Scholarship for which one was awarded for each state. For each of these scholarships, a choice of college was required. Rod had selected Cornell for the National Merit Scholarship application, and Georgia Tech for the General Motors Scholarship. Sometime in the spring he was notified that he had won both! But he had to choose which scholarship he would take within two weeks! After a frantic time of talking with the school advisors, he chose Georgia Tech and the General Motors scholarship because it would allow him to be a co-op and work some quarters, which was appealing to him at the time. But since the scholarship was a full scholarship, the co-op work was unnecessary for paying his tuition, so he chose to go straight through and not take off work quarters.
Rod delivered the Valedictory Address at his high school graduation from Newport High School. The graduation was held in the gymnasium. Rod's eyes are closed, and probably everyone else's too. The speech was short, but included at least one poem, probably suggested by Mrs Eubanks, the librarian who had so inspired him to read, or by Mrs Ruby Williams, his literature teacher.

"I bargained with life for a penny,
and life would pay no more,
however I begged at evening
when I counted my scanty store.

I worked for a menial's hire,
only to learn dismayed,
that any wage I had asked of life,
life would have paid."
| | |
| --- | --- |
| | In late August of 1957, Rod caught the train from Walnut Ridge, Arkansas to travel to Atlanta and Georgia Tech. |
| | |
| --- | --- |
| When the train stopped in Jonesboro, two other new Georgia Tech students got on and we got to know each other on the way to Atlanta. | |
| | |
| --- | --- |
| | We reached Atlanta late at night and got off the train at the old rail station near Richs. It was too late to get into the dorms at Georgia Tech. The town was full of some convention, and the only hotel room we could find was a seven-room suite on the top floor of the Briarcliff Hotel at Ponce de Leon and Briarcliff. The three of us from Arkansas stayed in this room for single room rates. |
Index
1957