Visit to Scotland
September 2, 1967
We set out from Beaumaris at about 7 AM to drive to Scotland.Traveling the same route as to the Lake District, we made fairly good time to the top pf the M6 motorway but then started hitting delays. At Carlisle, on the edge of Scotland, we were in a solid line of traffic for two full hours to move the six miles through the town. We stopped at a Bed n' Breakfast at Elvanfoot, off the A74, at 5:30 PM. We had been on the road 10 1/2 hours to travel 265 miles, and we had stopped only briefly for lunch and petrol. I recalled the time when Sam Shelton, Jerry Phillips and I traveled over 650 miles in the same length of time in Idaho.
This was a view of Colwyn Bay on our northward trip toward Scotland.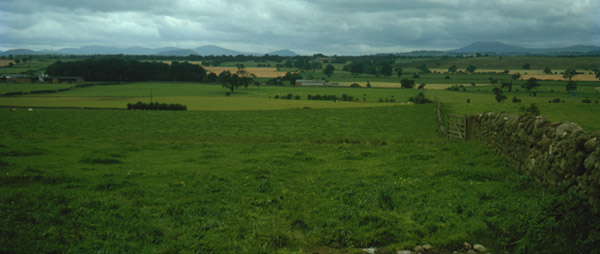 This view of the English countryside is near the Lake District, off the A1 south of Penrith. The lush green and the stone walls dividing the fields were typical of the north part of Wales and the north of England.

We spent the night in a large house with an old Scottish lady and her husband. She built a fire with coal and wood in the fireplace in her sitting room aqnd we sat and read for a while. She served us tea and biscuits and was quite friendly. The next morning we had breakfast in the dining room on a huge heavy wooden oval table with leather upholstered chairs. The advantages of bed and breakfast places are many. They are cheaper, you get better service with a more personal touch, and you get to see some lovely old houses. This was a stone two-story building overlooking a stream and a vast expanse of hilly moorland.
Index
1967