Scotland:Poolewe to Loch Ness
September 6, 1967
When we arose after our memorable night in Poolewe, the wind was still blowing and heavy waves were rolling in, but the rain had stopped. After a good breakfast we drove to Gairloch and had a look at the deep sea fishing boats as they were preparing to go out. Then we retraced our way down Loch Maree and headed for Inverness.
We had a few more miles of the bleak moorland where the sheep is king - with right-of-way on the road - but then the country opened up and there were some nice forests and some fields of oats. We had not seen any cultivated land since we left Loch Lomond - all land is used for sheep and cattle with some haying done. A lot of land is being seedlinged in forest - as it is in Wales.
We stopped off by the Beauly River to watch the salmon jumping as they come upriver to spawn. There were some fishermen there and we watched them bring their catch to the car - there was one lovely 9lb salmon - over two feet long.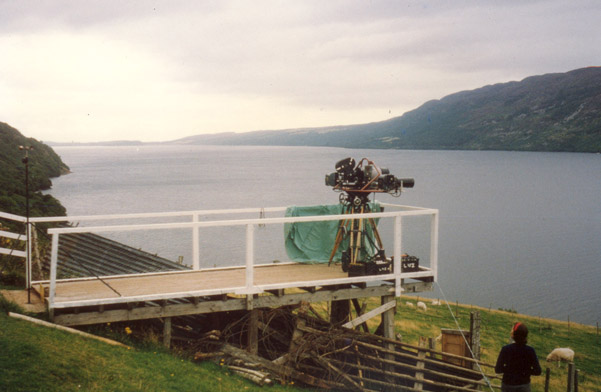 Brenda has a look at the monster-watching station at Loch Ness.
We made good time to Inverness even though most of the road was single track with passing places - the road was nearly empty. We drove down the length of Loch Ness, about 30 miles, and stopped off at the monster watching station. A sunrise to sunset watch is kept between May and September. A camera with a 1000mm lens (costing 1000 pounds) along with two other still cameras with shorter lenses is kept ready on a platform at all times.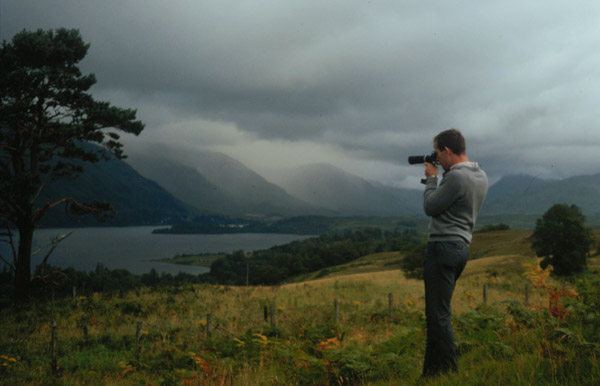 Rod shoots a few pictures of Loch Ness, but he didn't see the monster.
Turning across the country at Spean Bridge, we drove to Dunkeld for the night. There were some people from Newcastle-on-Tyne at the B&B and they recommended the coast route down to Newcastle and on to Aycliffe. We stayed up and talked with them until about 11 PM.