Christmas in Newport, Arkansas
December 21-26, 1969
Jeff gets an early Christmas present and is playing with this toy train on the floor of Rod's Mother's house in Newport, Arkansas, December 21.
Brenda with Jeff, Dorothy and Jim. Brenda is pregnant with Mark. They are on the couch at Rod's Mother's house.
Jeff enjoyed a stuffed monkey made from socks - he carried it around with him.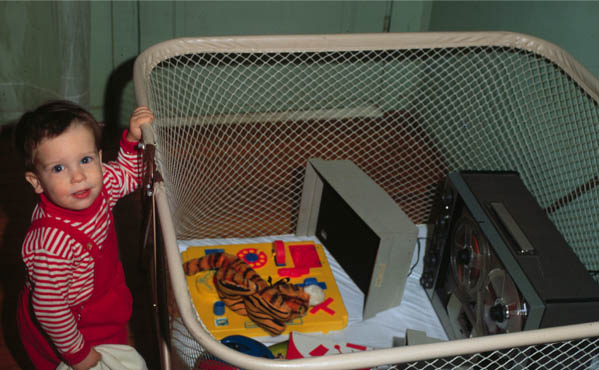 Rod had carried along his reel-to-reel tape recorder to play Christmas music, but the moving reels and all the knobs proved totally irresistable to Jeff. So the logical thing seemed to be to put the tape recorder in Jeff's playpen and him outside it.
Jeff with his Grandmother Nave. Mother had just come in from her work at the Jackson County Convalescent Home.
Jeff enjoyed Christmas in Arkansas, and we enjoyed watching him. This is his second Christmas, but he was too young to enjoy the first one - so this one was a delight to us.