Brenda, Jeff and Mark at Jacksonport Ferry
August 21-25, 1972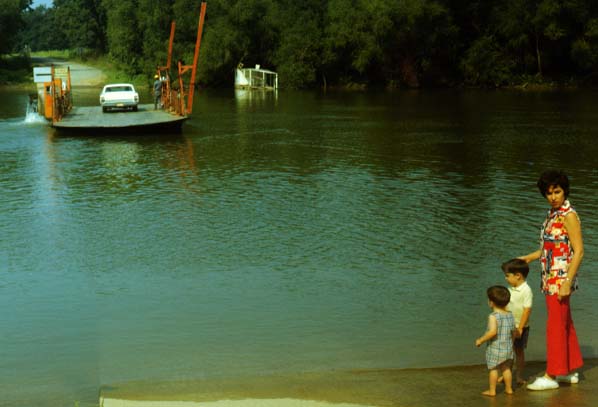 On a visit to Rod's folks in Newport, Arkansas, we made a swing over to the Jacksonport Ferry across the Black River. It is about 4 miles from Rod's old homeplace. August 21, 1972
Jeff and Mark watched them load a car on the old sidewheeler ferry and start across the river. I had done the same thing many times as a boy. It was always fascinating to watch the ferry.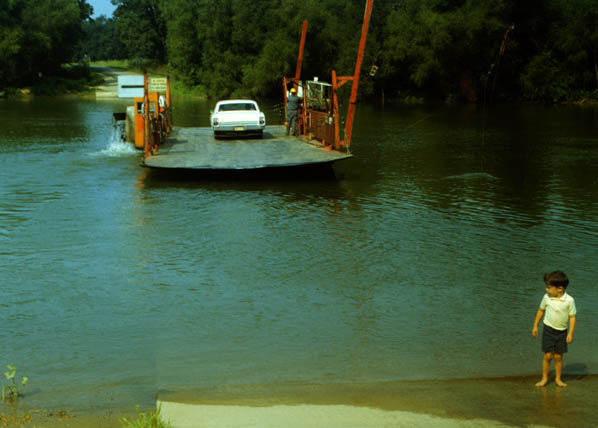 Jeff can't resist dipping a toe in as we watched the ferry progress across the river.
| | |
| --- | --- |
| | This is the old Railroad Depot on Front Street in Newport, Arkansas. The trip to the Jacksonport Ferry had kindled a nostalgia trip, so I was taking the boys around to the places I knew as a boy. We had caught the train at this station many times. |
Jeff and Mark on the tracks where I caught the train many times, and met folks as they came into town on the train. The Newport Bridge over the White River is in the background, another indelible memory from my childhood. Not far from where the boys are standing, I saw President Harry Truman come through on a train, waving from the platform on the caboose, when I was a small boy.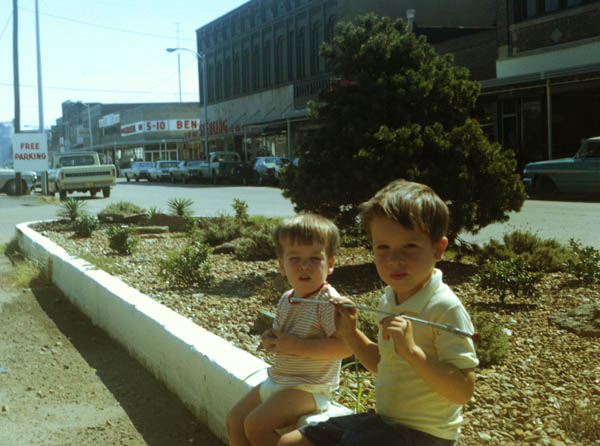 Mark and Jeff were cooperative in letting me park them in my history. This is on Front Street in my home town of Newport with a view of the Ben Franklin 5 and 10 Cents store which was my favorite store as a small child. The only negative memory associated with Ben Franklin's is a time when I got lost in it - and I was probably not any older than Jeff at that time.
| | |
| --- | --- |
| | Jeff and Mark didn't have to be coaxed into enthusiasm for playing with things at Wright's Hardware. Their reactions were pretty much what mine were many years ago, under the watchful eye of Mr. Wright. |
| | |
| --- | --- |
| This is the First Baptist Church of Newport. It was where I was baptized and where I attended church during my high school years. Aunt Pearl took me there first when I was probably five years old to children's programs. | |
| | |
| --- | --- |
| | This is Mother's house in this senior housing development. It is modest but quite comfortable and adequate for her. |
| | |
| --- | --- |
| This is Newport High School where I graduated in 1957. This complex included grades 7-12 at the time, so I attended here for five years. | |
Sue took us out to see Leland's horse Cheyenne, which Jeff and Mark enjoyed very much. This trip certainly stirred a lot of memories, and it was neat to just take the boys along with me on this nostalgia trip. August 25.