Brenda, Jeff and Mark in the Smokies
Rod had a meeting of the American Association of Physics Teachers in Boone, North Carolina, so it was good opportunity for Brenda and the boys to see the Great Smoky Mountains and the Blueridge Parkway.
Brenda and the boys at Tanbark Ridge Overlook in the Smoky Mountains on the Blueridge Parkway above Asheville, NC. June 21, 1974.
Brenda and Mark at Linville Falls, North Carolina, June 22.
Brenda gave the boys some time to play near the Falls, but with a wary eye on them.
| | |
| --- | --- |
| | Brenda and the boys at the upper overlook, Linville Falls. |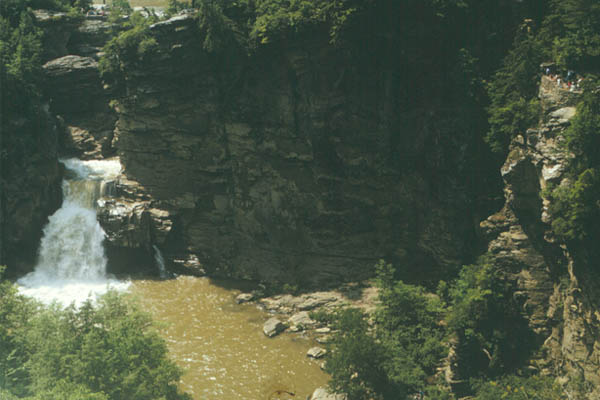 You get a better sense of the large scale of this view by looking at the people on the other high overlooks to the extreme right and extreme left of this view.
| | |
| --- | --- |
| The view downstream from the falls was much more placid. It was lush green and beautiful, and we could relax a bit after getting the boys off the steep precipices. | |