Explosion of House Next Door to Wayne Thomas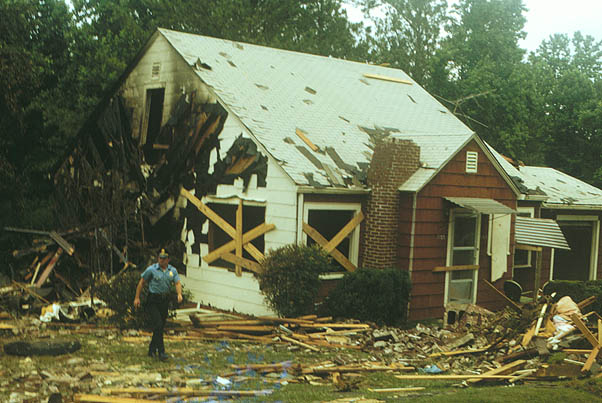 This shows the damage to Wayne Thomas's house from the explosion of the house next door. A backhoe working at the street in front of the neighbor's house had hit a natural gas line and jerked the line loose at the house. The basement of the house had filled with natural gas and then exploded, blowing the house all over the neighborhood. Only the steel support posts in the basement and part of the basement wall remained.
Wayne was in the house at the time and was blown through a screen door onto his porch. He was not seriously injured, but his neighbor was killed in the blast. Wayne was taken by ambulance to South Fulton Hospital were Mama and Bonnie caught up with him. They had come out to Mama's house on Hillcrest for something and got word of the explosion. The explosion happened about noon and Bonnie tried to reach Brenda by phone so she wouldn't hear it on the news first. Brenda was working at the Mulkey Road Nursing Home but had left to take Mark to the doctor for his ears. Mrs Julian Gross caught up with her to give her the news and we went over to the house.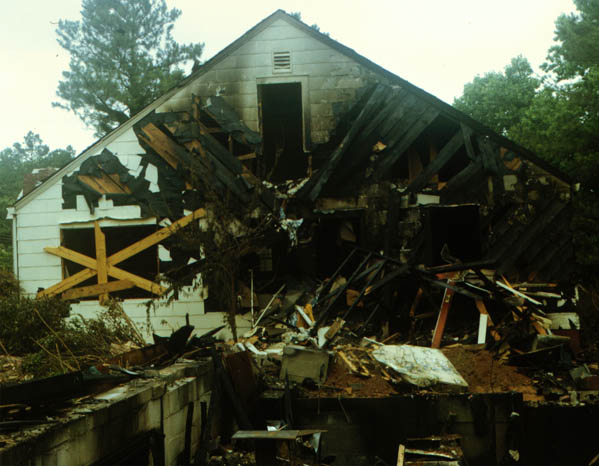 If you have any doubt about the explosive power of natural gas, take a look at Wayne's house from the vantage point of the middle of the basement floor of the neighbor's house. The house is completely gone!
This is a view from the front of what was the neighbor's house. The only thing left standing are the steel posts which are set in the concrete of the basement floor to support the floor of the house.
| | |
| --- | --- |
| | This is the house on the opposite side of the exploded house from Wayne's house. It had most of the brick veneer blown off it, but didn't suffer as much damage as Wayne's house. |