Orvetta's 78th Birthday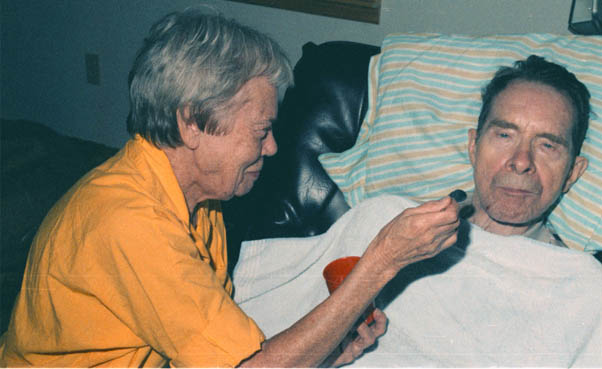 A tribute to Orvetta
This comes close to being a portrait of Orvetta's life, as I see it. She spent many years caring for my grandmother, Susie E. Owsley, and has provided the primary care for Frank. Always a strong and competent person, Frank has suffered from a progressive Parkinson's syndrome which has left him almost immobile. Bringing some inspiration into this sadness is the care and love that Orvetta has shown. I have not taken a picture for years which has so deeply moved me upon seeing it. It is sad to see our family members grow old, but the love and sensitivity and care shown at such times serves to remind us all of the deeper things of life. I found myself sitting there in tears, and it is through those tears that I write this tribute to my Aunt Orvetta.
Brenda, Rod and Mark made a trip to Owensboro and Utica, Kentucky on August 22. We decided to make ice cream and have a cake to celebrate Orvetta's birthday. We gathered at Edgar's house in Utica. Shown are Orvetta, Shery, Mark, Paul, Edgar and Brenda.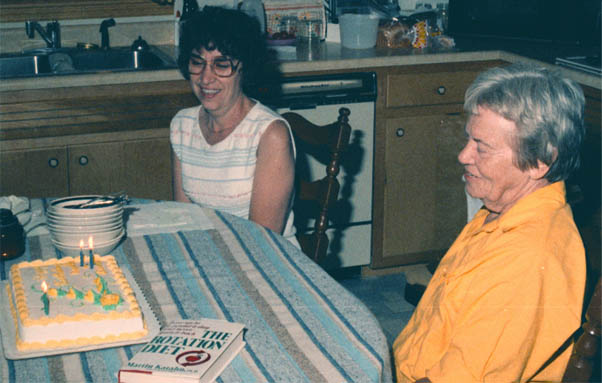 We were actually celebrating both Brenda's and Orvetta's birthdays - both on August 26.
| | |
| --- | --- |
| | Paul and Shery took the cake to show to Frank. He was able to travel, so we brought him out in the specially equipped van. |
This was a good family time for us. We were still very much in the mourning process after the death of Rod's Mother in June, so it was good to get together.
Index
1986