To Fairbanks, Alaska
August 27, 1991
| | |
| --- | --- |
| | We again boarded the train and made our way toward Fairbanks. We enjoyed watching the train's serpentine progress along the Nenana River bank. We encountered some nice hillsides with yellow and gold fall colors as we approached Fairbanks. |
| | |
| --- | --- |
| This moose cow and calf were casually grazing in the back yard of the bed and breakfast where we stayed. | |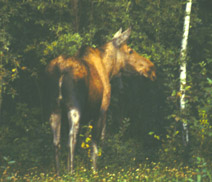 Jeff and Rod with Denali as Backdrop
Jeff and Rod were fortunate to get good views of the mountain. The one-lane, gravel Denali Park can be seen in the background.
| | |
| --- | --- |
| | Jeff and Sue with the Denali Park Road leading toward the mountain in the distance. |
| | |
| --- | --- |
| Warren and Sue in the cold morning air as we celebrate the viewing of "the mountain". | |

View from Eielson Visitor Center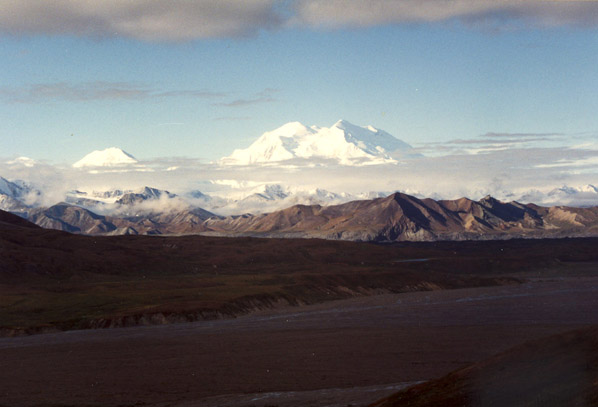 The lower range of mountains around the foot of Denali are themselves over 10,000 ft high. It's hard to imagine a mountain over 20,000 ft high until you see it.
Another view from the area of Eielson Visitor Center.
The beauty of the tundra pools and the vegetation around them was enhanced by the jewel of Denali standing over them. This one is called "reflecting pool", a large and particularly well-situated tundra pool.
Moose Creek and the Kantishna Roadhouse

Moose Creek winds through the grounds of the Kantishna Roadhouse, a historic location which marked our most distant penetration into this wilderness. Now there are log cabins for rent there, with running water and electricity generated by large diesel generators.

Jeff tries his hand at gold-panning after a talk and demonstration.
| | |
| --- | --- |
| | This caribou couldn't have been more cooperative for picture taking on the way back from Kantishna. He was in the road as we rounded a corner. His white tail went up like a flag and he ran off to the side a bit before stopping to graze. |
| | |
| --- | --- |
| Our driver, Pam, was familiar with every turn in the narrow dirt road. Besides driving here for some years, she comes early in the spring to train the new drivers. She is school bus driver trainer for Faribanks, North Star, and Barrow during the year. Still, these narrow cuts into hillsides of loose, slide-prone material made you nervous at times. Sometimes it was hundreds of feet down a loose slope to the river beds in the valley below. By afternoon it was cloudy, cold, and occasionally snowed lightly. | |
Index
1991