Polychrome Pass in Denali Park
August 26, 1991
On our way to Polychrome Pass we passed alongside this wide, shallow glacial river. We called them "braided rivers" because of all the little streams between gravel bars.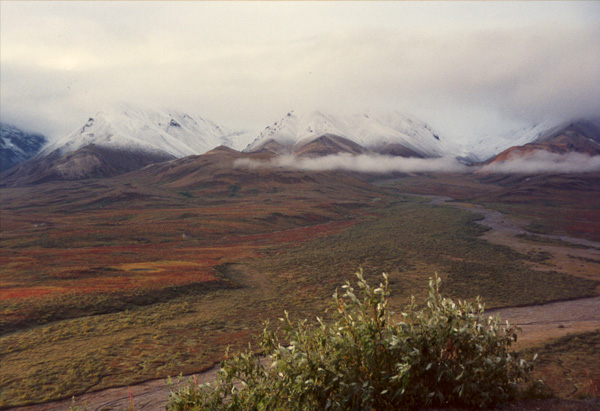 This valley is the approach to Polychrome Pass. The red tundras of the valley and the willow in the foreground were common sights. The dusting of new snow had occurred during the night.
It was extremely cold and windy at Polychrome Pass. There were frozen puddles on the ground. The dusting of new snow covered some of the color of the hills, but the red fall colors of the tundra in the valley floor added to the scene.
| | |
| --- | --- |
| | The interplay of the braided streams and the tundra cover plants was something we saw several times. |
| | |
| --- | --- |
| The fall colors of the tundra. The reds were often the blueberry bushes so prized by the grizzly bears. We saw a mother with two cubs down on one of the streams, but she was too distant to photograph. | |
The play of the intermittent sun kept changing the color of the tundra.