The Train to Denali
August 25, 1991
| | |
| --- | --- |
| | Rod and Jeff, Warren and Sue Woolf boarded this small 10-seat, twin prop commuter plane at about 5:30 AM. It was a short 60 mile hop to Anchorage. Then we boarded the long Anchorage-Fairbanks Alaska Railways train for our trip to Denali Park. |
I was pretty well beat up from the almost two weeks work on the building at Mt. Redoubt Baptist, so my legs were grateful for the comfort and generous amount of room on the train. It was a relaxing and luxurious trip for me. Green forests, rivers, mountains, and very little sign of human habitation. We had a nice breakfast in the dining car with Warren and Sue and just settled back to enjoy the trip.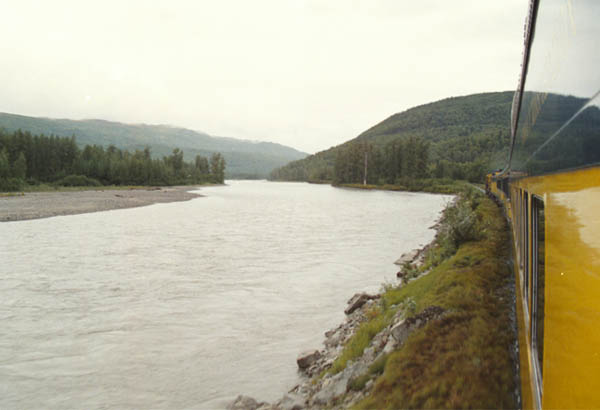 We traveled north from Anchorage and around the Knik Arm of the Cook Inlet. We soon began to parallel the Susitana River, known as the "Big Su". The rivers are a milky blue color and just about opaque from the large load of glacial silt that they carry. Most of the rivers in southern Alaska come right out of the numerous glaciers.
| | |
| --- | --- |
| | We traveled through green hills, with a lot of rivers and streams. There were a few small collections of houses, but mostly we saw woods and streams. Here we saw 3 or 4 tents beside this clear stream. There wasn't a lot of sign of human habitation. |
| | |
| --- | --- |
| | From the observation car we could watch the long train snake through the woods. |
| | |
| --- | --- |
| | This is one of the relatively few locations where you could see man-made structures from the train. |
More typical was the experience of looking all the way to the horizon without seeing anything which was man-made. It was a refreshing and unusual experience for us.

The red color in the forground is fireweed, with which we would become very familiar before the end of the trip.
This peaceful-looking wilderness setting was much more dramatic than it appears. One of the remarkable features of the trip to Denali was an amazingly high and long bridge over Hurricane Gulch. The picture above was taken from the top of it, looking at a sharp bend in the Chulitna River. A 918 ft span built in 1921, it stretched the engineering of its day to the utmost. An aerial tramway was built first and construction was strated on both sides of the deep gulch. It stands 384 feet above the low point of the gulch.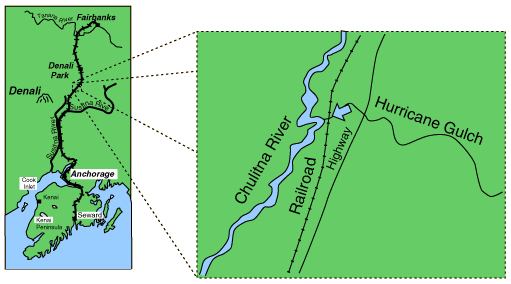 Index
1991