Mt. Reboubt Construction
August 20, 1992
| | |
| --- | --- |
| | Roy Moore had been working 12 hour shifts, but he was off today and he took time to bake us a silver salmon for lunch. |
| | |
| --- | --- |
| The daisies and fireweed in the church yard have been a pleasant decoration of our working environment. | Rod and Warren have completed the back stairwell and are now scratching their heads over the building of platforms and stairs that go to the choir loft and baptistry. These have to be built in with the walls. |
| | |
| --- | --- |
| | Max Hardie and Harry Espy bring the ceiling sheetrock near to completion. |
When clouds clear up enough to see Mount Spurr again, it looks just like it did before the eruption. So from our poiint of view at least, it didn't seem like the eruption took much off the mountain.

On the path to our viewpoint on the bluff there were several types of berries. They included the high-bush cranberry or lingonberry below left and the low-bush cranberry below right.
This was Don Hammonds' last day with us. He took us all out for pizza for supper and we decided to take group pictures when we came back to the church. Back row: Rod Nave, Don Hammonds, Gene Allison, Warren Woolf. Front row: Curtis Martin, Harry Espy and Max Hardie.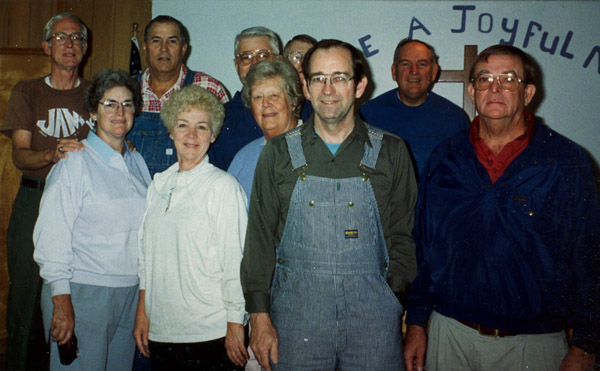 Here the ladies join us: Jo Allison, Anita Hardie a nd Sue Woolf. Brenda Nave took the picture.
Index
1992