Glenn Highway Through the Matanuska Valley
August 31, 1992
| | |
| --- | --- |
| | Leaving Chistochina, we backtracked to Gakona Junction and recrossed the broad Copper River with its glacial stranded sandbars. Then we were headed toward Anchorage on the Glenn Highway, a route we had traveled two weeks ago on the return from our Denali loop. |
| | |
| --- | --- |
| The Glenn Highway stretches straight through this country of lakes and forest. | |
| | |
| --- | --- |
| | With the lakes and the short conifer trees, the views above and left are signatures of the kind of forest known as "taiga". Jeff and I had encountered this kind of taiga on our train ride up to Fairbanks last year. The end of August is fall here, and the fall colors show up in the low tundra growth. |

This scene struck me as genuinely Alaska - lake, forest and mountains accessed by light plane. This was in view of the main highway, but it could just as well have been hundreds of miles from civilization. We heard many tales of hunting and fishing trips which used a light plane to get in to a remote lake.
Returning down the Glenn Highway toward Anchorage, we were retracing our steps of August 14. We were amazed at how much the colors had changed in a little over two weeks as this country moved into fall. The yellows and golds were prominent as we took another look at the Matanuska Glacier.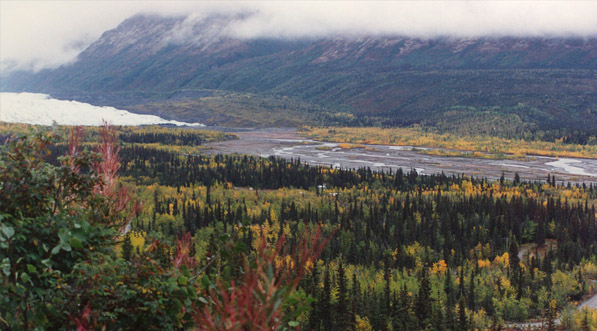 | | |
| --- | --- |
| | This was our closest approach to the Matanuska Glacier. It was a large river of ice with all kinds of cracks and crevasses in it. |
This was a shot in the opposite direction from the glacier, down the wide valley of the braided glacial Matanuska River.
Two views from the same location.

The photo of the Matanuska Glacier and valley at left was taken on August 14, about two weeks ago. The photo below was taken on August 31. The change in color which signals the Alaska Autumn is very quick.
| | |
| --- | --- |
| | The photo above is our parting look at the Matanuska River valley dressed up in its fall colors. We stopped in at the Longrifle Lodge for lunch. The back windows of the dining room gave fabulous views of the Matanuska Glacier and the valley. They had some of the finest taxidermy we saw, and their raspberry pie wasn't bad either. |
Index
1992