We had driven to Yosemite National Park after our tour of San Francisco. After spending the night at the Wawona Hotel, we were off to explore the Mariposa Grove. One of the first things I tried to do was to find a way to communicate the scale of the huge sequoia trees in the grove. I'm convinced that you can't really do it in a single photograph, but at left you can see how small Brenda is in comparison to one of the sequoias. Above is a stand of four of the huge trees.
The brochures say that there are about 500 of the mature sequoia trees in the Mariposa Grove. The tallest tree in the grove is 290 ft tall, compared to about 310 ft for the tallest sequoia and 368 ft for the tallest coast redwood. They can exceed 3000 years in age, but that doesn't come close to the bristlecone pine trees for which there are examples 4600 years old. The largest sequoia is just over 40 feet in diameter.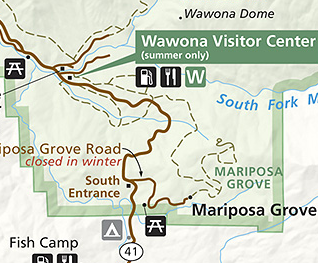 The Mariposa Grove is at the extreme southern end of Yosemite National Park.