RA Camping Trip
November 11-12, 1994
After camping overnight at the Bent Tree Campground and then coming up to the house for breakfast, we are about to set off on a hike. The leaders in back, L-R are Johnny Huffman, Mark Reyes, Mark Weaver, Stacy Gibson and Reid Bell. Joseph York is in front of Johnny in red shirt and hands up. Other boys left to right are Michael York, Michael Weaver, Will Poole, Clint, Brian York, Josh Reyes, Cole, Ros Bell.
We left First Baptist Mableton at 6pm to drive to the Bent Tree Campground, a distance of about 65 miles. Arriving at about dark, we had to set up tents and prepare to cook hotdogs.
| | |
| --- | --- |
| Michael York holds the light for Reid Bell to finish setting up his tent. At right Brian York helps to peg down the large tent. | |
The boys were enthusiastic about the hotdog supper, particularly if they got to roast their hotdog over the campfire.
| | |
| --- | --- |
| Mark Weaver and son Michael cook their hotdogs over the coals. | |
RA leader Stacy Gibson roasts another hotdog in the midst of flaming marshmallows. Ros Bell at right has his hotdog ready, as does his dad, Reid Bell in the background.
After all the tents are pitched and the hotdog supper finished, still a main attraction for the boys is the campfire. Joseph and Michael York and Ros Bell poke sticks and play around the campfire.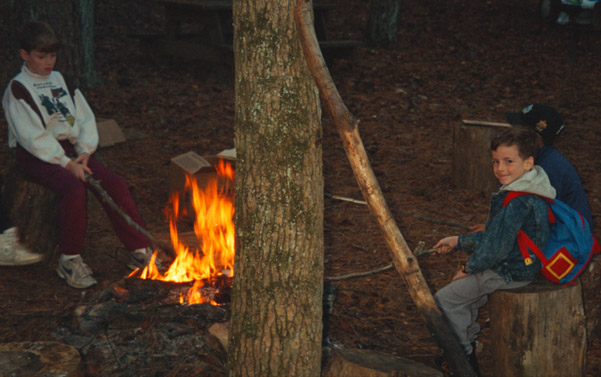 Michael York and Brian York at the campfire. This was probably Brian's first trip with the RAs. He seemed to enjoy everything.
| | |
| --- | --- |
| | The boys settled down for the night without much trouble, and we survived the night. Here we are around the campfire in the morning with all the tents down. We are getting ready to go up to the house for breakfast. |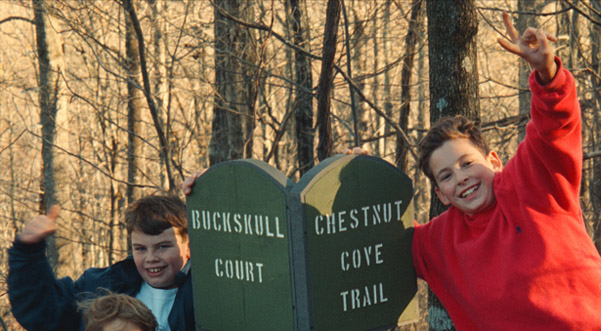 Michael Weaver and Joseph York at the sign at the bottom of our driveway. They seem ready for the hike!
| | |
| --- | --- |
| | We proceed to the top of Thunderstruck Drive and head up the ridge toward the top of Big Stump Mountain. This is the rest and water stop along t he way. |
We reached the top of Big Stump Mountain on this beautiful clear day.
| | |
| --- | --- |
| From the top we got a view down on Lake Tamarack and a view of Jasper in the distance. | |
Josh Reyes, Michael York, Michael Weaver in back, Ros Bell in front with Will Poole in the corner. This was on the way down.
We headed down the steep slope behind the house, where it is hard to stay on your feet. The quick trip down leads to our standard description of this hike "Fourty-five minutes up, fifteen minutes down unless you slip, and then its five minutes down!" Michael Weaver stops at the hollow tree with our house down the hill in the background.
| | |
| --- | --- |
| Michael York above and Ros Bell at right at the old hollow tree. | |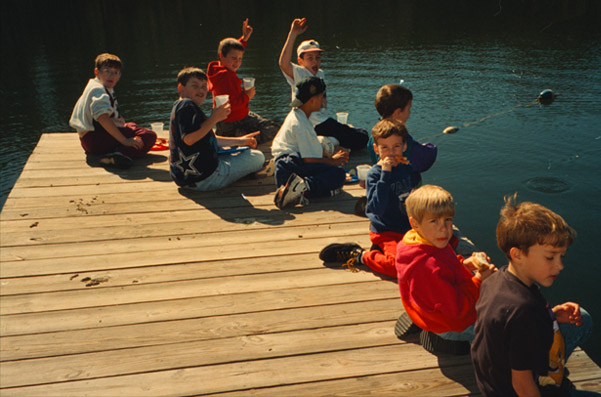 From 3000 ft Big Stump Mountain, we drove down to Lake Tamarack at 1500 ft for lunch before heading back toward Atlanta.