Mark on Set of Andersonville Movie
October 1, 1994
Mark worked on the set of the TBS movie about the Andersonville Prison from August to December. We visited the set south of Sharpsburg.
Brenda on the Andersonville set inside the stockade. They fabricated 4000 tents for the movie, and this is part of the setting inside the 22 foot high stockade walls. All the figures you see in the distance are lifesize cutouts.
| | |
| --- | --- |
| | We were particularly interested in this life-size cutout since it is of Wesley Kennemore, who we have known most of his life. Jeff and Mark were in scouts with him and we spent a good bit of time with him and his family when he was growing up. |
| | |
| --- | --- |
| At the right of this picture you can see two other copies of the cutout of Wesley. There were a number of others scattered around the big compound. | |
| | |
| --- | --- |
| | Rod found another copy of Wesley as we explored the compound of prison tents. |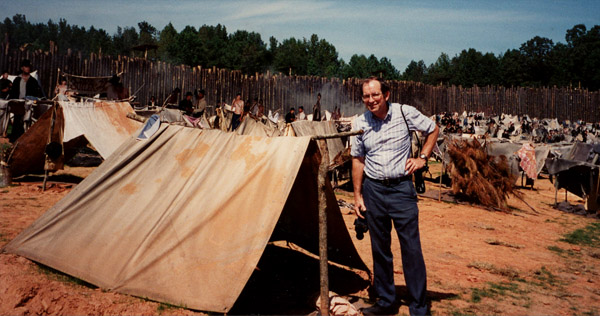 Rod, standing by one of the prison tents, is the only live person in this crowd. All the rest are the lifesize cutouts.
Mark got an official credit in this movie as a painter. Just based on what we saw in visits to the set, he did a lot more than paint. He ran several types of lifts and was zipping around the whole set.

One of his tales was about using a high lift to paint some trees. It was October and the leaves had turned, but to fit the story, the leaves had to be green. So he was up on a lift, which he says the teamsters wouldn't touch, and swaying in the wind to paint leaves green. He said he didn't mind the swaying of the lift so much, but sometimes the tree was swaying in the other direction, so it was hard to paint.
Index
1994