Brenda Fractures Her Patella
February 24, 1994
| | |
| --- | --- |
| | Hurrying across the parking lot at Georgia Baptist Medical Center to a 7am meeting, Brenda caught her heel in a crack. It threw her down on the pavement on her knee, fracturing her right patella half in two. Here she has had it pinned and wired and is on 8 Tower at GBH, February 25. |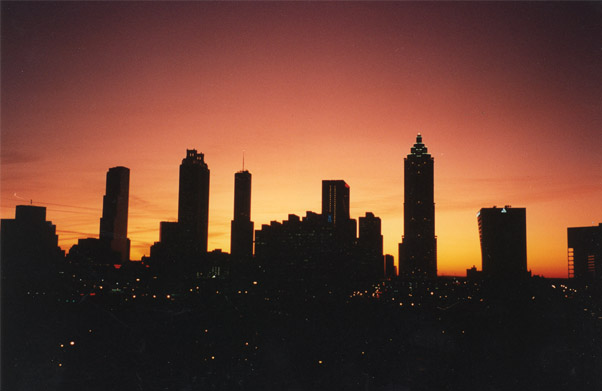 This year has been full of surprises. Their being nothing we could do about this accident having happened, we settled in to enjoy the spectacular view of the city of Atlanta from her 8th floor hospital room.

Brenda's patella had to be pinned and wired. At least she was at the hospital when it happened.
One of Rod's colleagues took a good bit of flack for a calligraphy quote on his office wall:
"My barn having burned down, nothing obscures my view of the beautiful full moon."
We feel a bit like that -- nothing we can do about the nasty break, so we might as well enjoy the beauty of the view of Atlanta from the hospital room.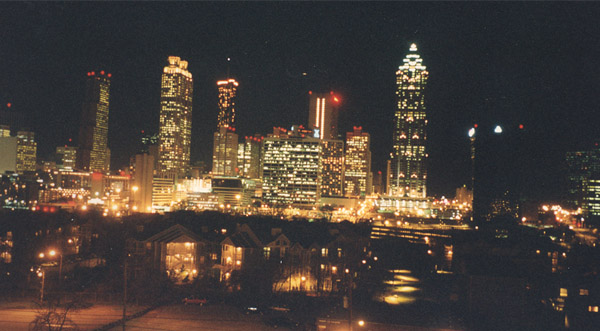 | | |
| --- | --- |
| | Watching the Lifeflight helicopter deliver a patient to Georgia Baptist from Brenda's hospital room. February 26. |
| | |
| --- | --- |
| The Lifeflight helicopter lifts off after delivering the patient. | |
| | |
| --- | --- |
| | Lifeflight leaving on another call. Brenda knew most of the Lifeflight crew since she worked with them and saw them around the hospital. |
| | |
| --- | --- |
| A bright clear morning with sunlight glistening off the city buildings. Brenda is building up her strength to be released home tomorrow. | |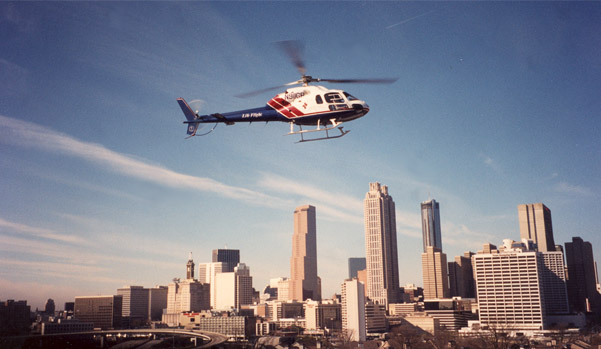 | | |
| --- | --- |
| | We had the view of the city buildings gleaming in the sun and a bird's eye view of the comings and goings of the hospital's Life Flight air ambulance. |
| | |
| --- | --- |
| Brenda had to do some walking with the physical therapist to be ready to leave the hospital tomorrow. As a longtime nurse, she knew how to be a good patient. And she certainly got good care - extra good care since most of the people there knew her well. She did have to work for a while at home to be able to lift the leg - there is something about this type of injury that makes it hard to do a straight leg lift for a while. | |
| | |
| --- | --- |
| | We had certainly had a good view from the hospital room in the Tower portion of Georgia Baptist Medical Center. Brenda's room was the third from the right on the top floor. |
Index
1994