Meeting Darla's Parents
April 22, 1994
| | |
| --- | --- |
| | We got to go to one of Darla's soccer games and to meet her parents, Dave and Judy Moyle, for the first time. They then joined us for breakfast and a trip to Bent Tree on April 24. |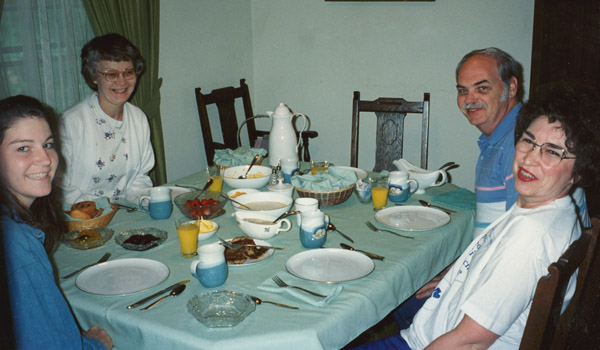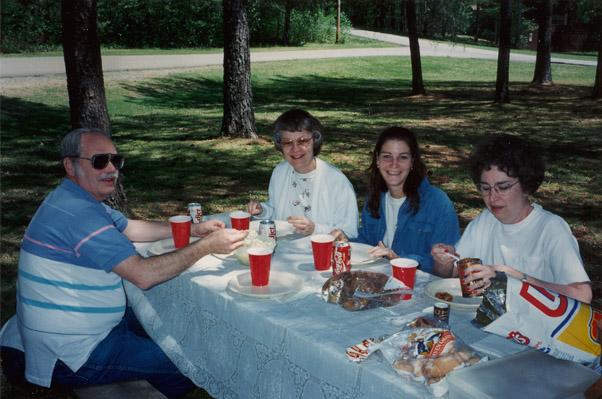 We had a picnic at the beach area and then drove around the lake to the spillway. Below, the view of the lake across from the spillway area gives a view of Big Stump Mountain. Our house is below and to the left of t he towers you can see on top of Big Stump Mountain.
| | |
| --- | --- |
| | Brenda, Darla, Judy and Dave at our traditional picture spot on the dam at Bent Tree. |
Our house is just below and to the left of the tower on top of the mountain. The road is below the one on which the larger house appears. A house just below us on our road shows as a light speck just above the top of the foreground hill.

On April 24 the trees at the lake level are in full, lush foliage. But you can see that the trees at the top are not yet fully leafed out.
At Lake Tamarack and relaxing at the house. We were very pleased to have had this opportunity of fellowship with Dave and Judy. We look forward to a lifetime relationship.
Index
1994