Harmonic Distortion
A common type of amplifier distortion is called harmonic distortion. It can arise if any component in the amplifer clips the peaks of the waveform. A common specification for high fidelity amplifiers is the total harmonic distortion. This distortion may be less than 1%, or even less than 0.5% from 20-20,000 Hz for high quality amplifiers.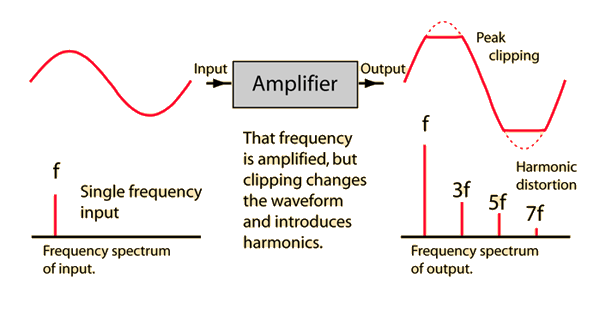 In the diagram, the input is a single frequency (pure sine wave), but the output waveform is clipped by the amplifier. The result is that harmonic frequencies not present in the original signal are produced at the output (harmonic distortion). This harmonic distortion contains only odd harmonics if the clipping is symmetrical. For example, a geometrical square wave has only odd harmonics, and as a signal is clipped, it approaches a square wave rather than a sine wave.
| | |
| --- | --- |
| The frequency spectrum at right is that measured at the output of a particular amplifier driven above its rated power. The spectrum has a larger amount of odd harmonic than even harmonic output, but the fact that even harmonics are present suggests that the distortion was not symmetrical with respect to the waveform. | |
An amplifier can be said to be linear if the output voltage is strictly proportional to the input signal. Any nonlinearity, such as that arising from the semiconductor devices themselves, will give rise to harmonic distortion. Such defects in the performance of the devices can be minimized by using negative feedback in the circuit so long as the output is not overdriven to the point of clipping.
Plots of frequency spectra such as those illustrated here can be important diagnostic and research tools. Converting a signal from a plot as a function of time to a plot as a function of frequency is called Fourier analysis, and a common display is the Fast Fourier Transform or FFT of the signal.