Alkyl Halides
The alkyl halides have the general form
where the R in the general form is typically an alkyl group with a halogen replacing one of the hydrogens. There can be multiple substitutions of halogens for hydrogens, and also variations where alkenes or alkynes are involved.
The simplest common alkyl halides are chloroform and carbon tetrachloride.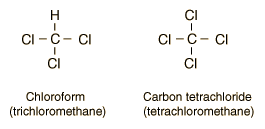 Chloroform was used as a medical anesthetic in the past, but has been found to be carcinogic. Carbon tetrachloride also has a long history of use in fire extinguishers, as a fabric cleaner, and as a solvent, but it causes liver damage and now is used much less.
An important class of alkyl halides are the chlorofluorocarbons (CFCs) which have been used in air conditioners, etc., as refrigerants. They face sharply curtailed use now because of danger to the ozone layer.