The TCA Cycle
The tricarboxylic acid cycle (TCA cycle) is a series of enzyme-catalyzed chemical reactions that form a key part of aerobic respiration in cells. This cycle is also called the Krebs cycle and the citric acid cycle. The greatly simplified cycle below starts with pyruvate, which is the end product of gylcolysis, the first step of all types of cell respiration.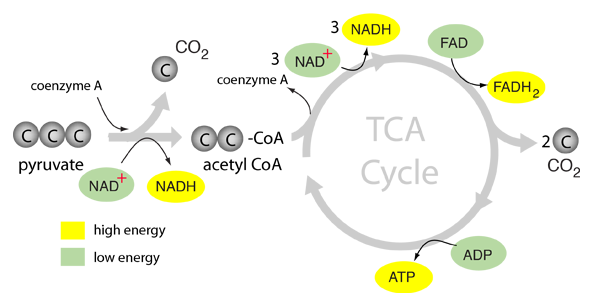 Since it is well known that ATP is the energy currency that is used for nearly every task in the human body and other organisms, it may seem surprising that so little ATP is produced directly by the TCA cycle. But the TCA cycle as shown here represents the process taking place in the matrix of the mitochondria using the reactions with NAD+ and FAD which carry high energy electrons to the electron transport systems in the inner mitochondrial membrane. The reactions there are responsible for the production of most of the ATP yield by chemiosmosis.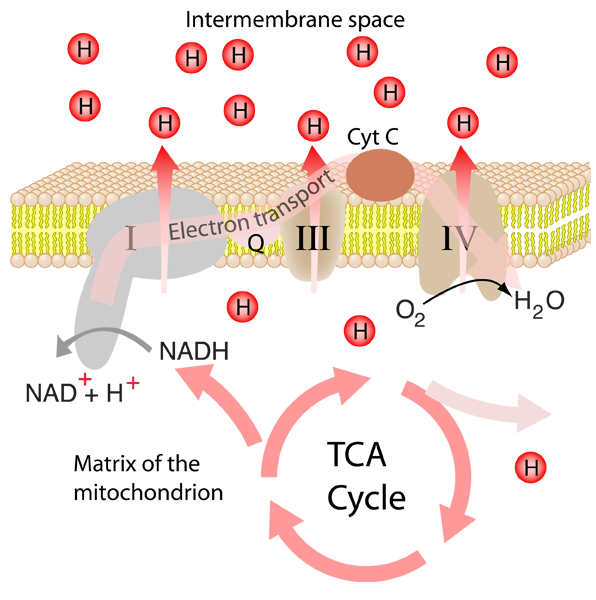 This shows the TCA cycle in the context of what is happening in the inner mitochondrial membrane.