High Temperature Superconductors
Ceramic materials are expected to be insulators -- certainly not superconductors, but that is just what Georg Bednorz and Alex Muller found when they studied the conductivity of a lanthanum-barium-copper oxide ceramic in 1986. Its critical temperature of 30 K was the highest which had been measured to date, but their discovery started a surge of activity which discovered superconducting behavior as high as 125 K.
Click on any of the compound formuli for further details.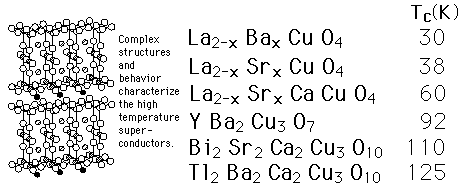 Index

Superconductivity concepts

Reference Rohlf,Ch 15

See also June 91 issue of Physics Today ( 7 articles).