Factory Sound Measurements
A sound measurement puzzle: when you went from the packaging area to the weighing area, the level in dBA went down but the measured level in dB went up!! How can that be? In the weighing area, a rumbling conveyer belt took packaged product to an upper floor. The increase in that low frequency, partially inaudible sound drove the decibel level up. The increase in distance from the loud packaging machines dropped the audible sound level.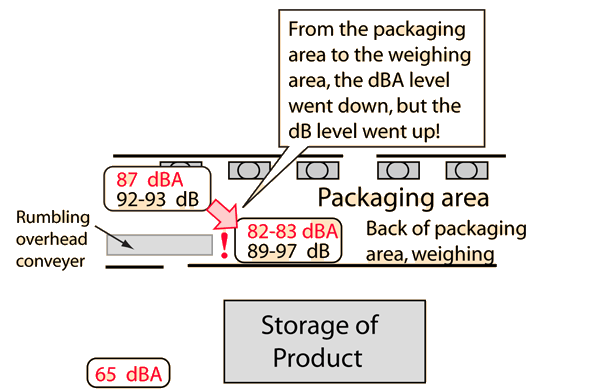 This demonstrates the fact that it is good practice to measure sound fields in both flat dB and dBA in sound surveys. It helps to characterize the differences in sound frequency distributions in different locations and allows you to explain puzzling measurements like those above. For low-cost sound survey meters, there is usually a switch allowing you to switch from dBA to dBC(which is close to flat dB), so you could just switch back and forth from A to C contours at each measurement location.
Index
Hearing concepts
Sound level measurement
Sound measurement examples