Some Violin Details
The violin, the most commonly used member of the modern string family, is the highest-sounding instrument of that group. Its four strings are stretched over a high arched bridge that permits the playing of one or two strings at a time, as well as the nearly simultaneous sounding of three or four as chords. The overall length of the violin averages about 60 cm (23.5 in), whereas the sounding length of the strings, from bridge to the nut at the end of the fingerboard, is about 32 cm (12.75 in). The instrument is held on the left side of the body, while the right hand holds the bow. The wider end of the instrument is placed between the player's left shoulder and chin, while the left hand encircles its neck, the fingers stopping the strings to produce the various pitches. Sound is produced by drawing the bow across the strings to make them vibrate, or by plucking the strings (PIZZICATO).
The range of the violin extends from G, the lowest open string, upward nearly four octaves. The strings are tuned a fifth apart at G3(196 Hz), D4, A4, E5(659.3 Hz).
Many consider that violin making reached its pinnacle in the work of Antonio Stradivari and Guiseppe Guarneri in the 18th century. Although the basic construction of the violin has been long established, the subtle variations which make an outstanding violin are the stuff of legend.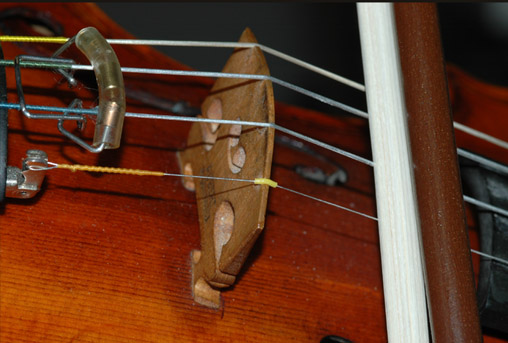 The sound quality can be changed considerably by the place where the string is bowed. If bowed close to the bridge (sul ponticello) then the sound is brighter with more harmonic content. If bowed further from the bridge (sul tasto) then the sound is darker, more mellow with less harmonic content.
Index
String instruments
Musical instruments