Meadowlands
Bloody Bay, Little Cayman, Cayman Islands
June 14, 1988
Mark peels off into a crevice in the intricately structured reef. You can see the white sandy bottom about 10 feet below him.
Suspended above a lush green reef which extended from about 30 to 45 feet in depth.
| | |
| --- | --- |
| | Mark took the camera just to prove that the old man was there, but I didn't let the camera out of my hand very much. |
An intimate portrait of a Nassau grouper against the green coral.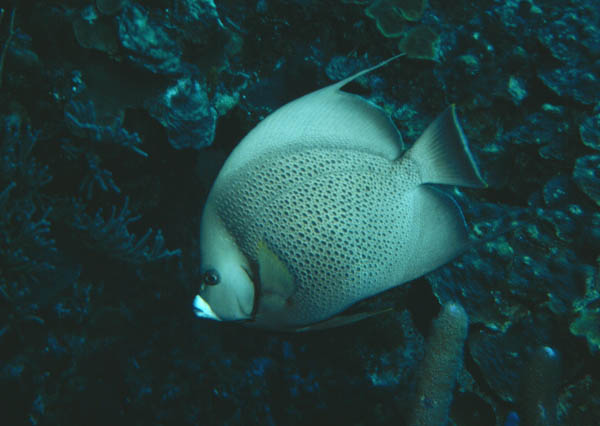 This nice gray angelfish was new to us. It may be very common, but we hadn't happened upon it in the Keys.
| | |
| --- | --- |
| | This green sea anemone was positioned in the top of a brain coral. |
This honeycomb cowfish was a new citizen of the reef for us.
In this shot you can see more clearly the little horn-like structures and the face that looks sort of like a cow. I am guessing that this is the origin of its name.
| | |
| --- | --- |
| | This southern stingray came across the sand with its fish escort. We gave it a wide berth. |
This was a nice, relaxing time of exploring this f ine shallow reef.
| | |
| --- | --- |
| | Mark is clowning around, standing upside down on the bottom of the boat. |
Lots of these sleek, almost gaunt-looking yellowtail jacks surrounded us as we were climbing back on the boat.