East Sand Chute, Cayman Brac
June 13, 1988
We descended to the wreck of a crew boat at about 60 ft on the sand.
| | |
| --- | --- |
| | The wreck was sitting on the sand, and when we got down to the sand, we scared up this southern stingray. He was accompanied by a black surgeonfish (left) and another large fish. There were some large fish near the wreck, like that below. |
After visiting the wreck, we moved on to the wall. We moved down a sandy slope to the wall at about 80 ft depth. Mark is hanging onto the edge of the great precipice which plunges thousands of feet.
Mark follows a couple of other divers along the wall. At this depth you get mostly blues. The wall was more slanted here and had lots of nice coral and sponges. At other locations the wall had been nearly vertical with not much on it.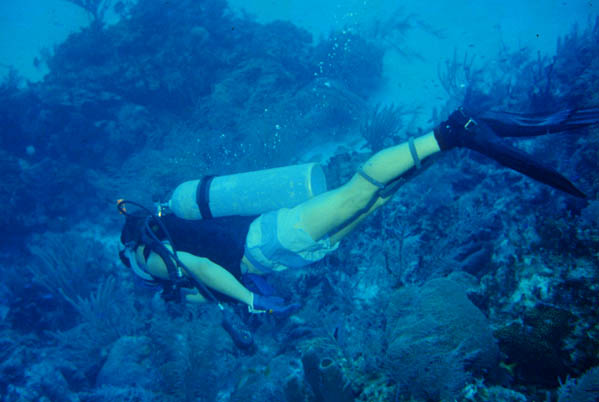 Coming up from the wall, Mark cruises over the sponges and corals below. This is on the ledge just abobe the wqll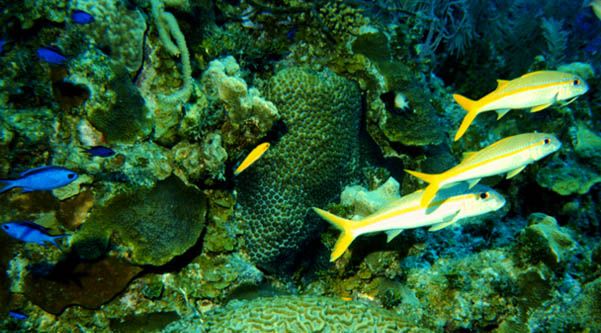 This brilliant trio of goatfish greeted us as we came upon the brightly lighted shelf near the dropoff to the wall. Some of the everpresent blue chromis added some color to the scene.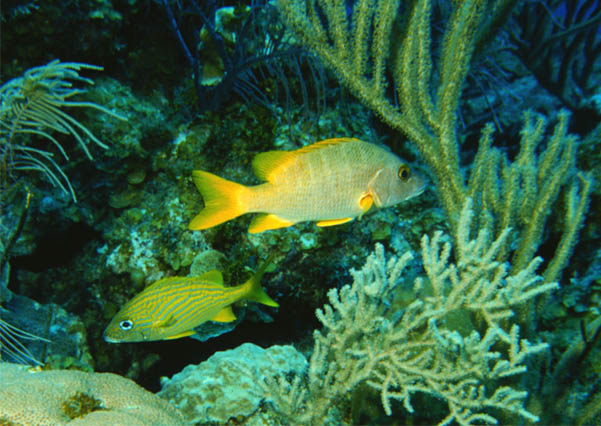 From time to time you came upon scenes which just seemed like perfect paintings. This includes a grunt at left and a fish which looks like a hogfish to me.
The blue chromis were present at many spots on the reefs. They seemed like just little blue flashes of light in the lush green of the reef.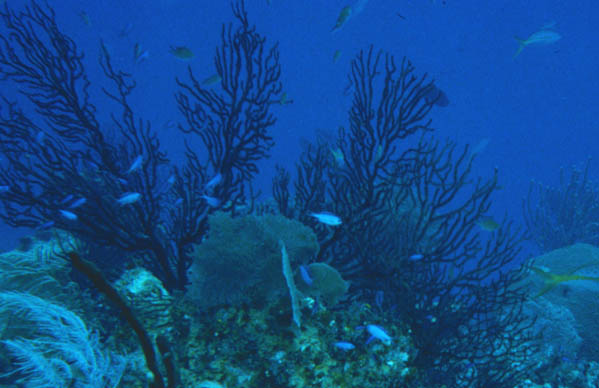 We were fighting a considerable current on this dive, and I burned air very rapidly. After hanging out close to the edge of the wall to shoot the above pictures, I looked down at my pressure gauge to find that I had 300 lb of air at 80 feet depth! I signaled Mark that I was going up so he could join another buddy team - he had about half his air left! From 80 ft I needed a little decompression time, so I went up to suspend at 15 ft until my air ran out and then surfaced with zero on my gauge. I barely had enough air to blow off the regulator cover when I got on the boat, so I got fussed at.
| | |
| --- | --- |
| | As I was hanging out at 15ft I watched this large barracuda. This was a fairly common occurence. Barracuda are curious, and often just hung around watching us. |