Mountainside Below Hochsolden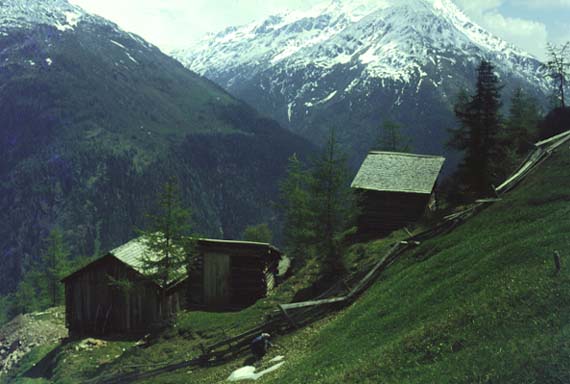 These are some of the buildings perched on the mountainside just below Hochsolden. After taking the chair lift up, we were walking back down. Brenda is examining wildflowers over by the rail fence.
We had reached Solden about 10:30 after a drive down the Otztal. It is very beautifully located in the valley on both sides of the small river. For a tourist trap, I found it rather nice. We enquired about the chairlift to Hochsolden and found to our surprise that it only cost about a dollar for the round trip, about 60¢ for the ride up. After having a snack and packing my rucksack with our lunch and my camera equipment, we caught the chairlift up. It was really an exhilirating experience - we just sat in the gently swaying chairs in the warm sunlight and were swung up through a green forest and before a beautiful valley and mountain scene.
Hochsolden was not too impressive itself - it was about at the snowline and we have noted that the snow is much more spectacular if you are below it, looking up. The view of the valley was nice, but somewhat blocked by the side of the mountain. Thus we started walking back down. June 17, 1967 Below, Rod is taking a picture of some wildflowers over by the rail fence.