Borrowdale Valley
August 28, 1967
| | |
| --- | --- |
| | Continuing our walk in the English Lake District on the next day, we returned to Borrowdale Valley. We paused by an old stone bridge across a creek in the valley. |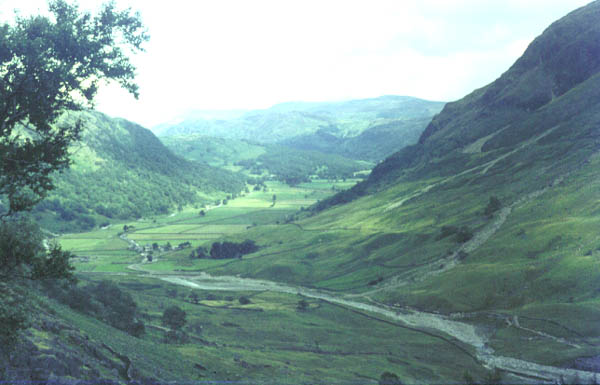 View of the Borrowdale valley
| | |
| --- | --- |
| We climbed out of the valley to get some higher viewpoints. A cairn of rocks marks the 1000 ft mark on the way up. That may not sound high at all, but the lakes are all at about sea level, so it is a considerable climb. | |
Further up was this stream in the rugged terrain.

We always had to be prepared for the rain which came and went.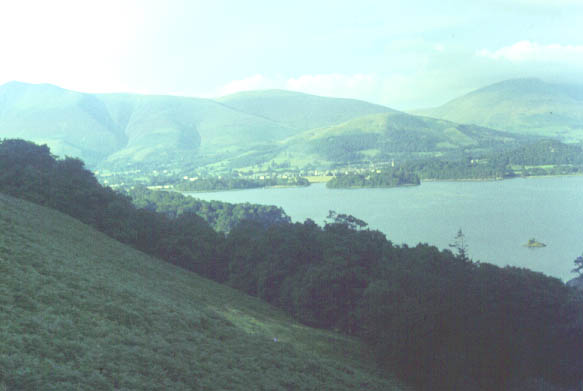 View of Derwentwater from the west side of Borrowdale.
View of Keswick from above the town.
| | |
| --- | --- |
| | Part of our mission on this trip was to pick up a Lakeland Terrier for Mollie. She had carefully sought and picked out this dog and had waited until he was old enough to pick up from the family in the Lake District. After our hiking trip, we accompanied her to the farm. |
| | |
| --- | --- |
| | The two playful terriers tug on the rope while the old English foxhound looks on disdainfully. The one on the right is Mollie's dog, which she named Grip. He became her constant companion. |
| | |
| --- | --- |
| | I enjoyed seeing the four Holstein calves in a stable which was attached to the house. They looked just like a calf I raised for Jimmy Boggs when I was a boy. It was nice to see the English farm. |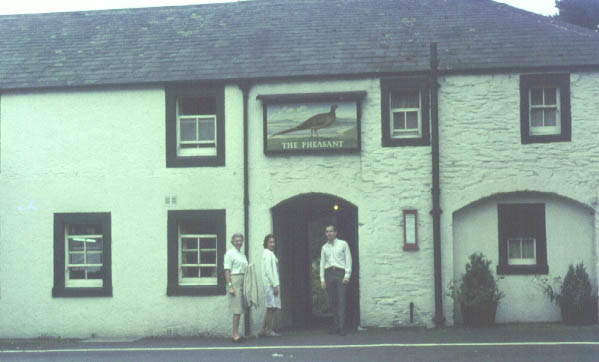 Rod, Brenda and Mollie by a hotel near Kewwick where we had coffee.
Index
1967