Visit to the English Lake District
Our two friends Mollie Tarbuck and her sister Marjorie Whitmore were great lovers of the Lake District and they agreed to go along with us and be our guides. We were very fortunate to see one of Great Britains's beauty spots with persons who know and love it.
August 25, 1967
On the way to the English Lake District we went through Betws-y-Coed and then north through the Denbigh Moors. The moors consist of wild grass, bracken, and heather. There are a lot of sheep on the moors which have learned to beg handouts from passers. We ate lunch by the roadside and three or four sheep came up to the car for bread scraps.

We passed the Denbigh Mental Hospital which looked like a huge haunted house, dismal and forlorn, sitting in the middle of the moorland without another house in sight. It is doubtless the origin of a lot of spooky Moorland tales.
August 26, 1967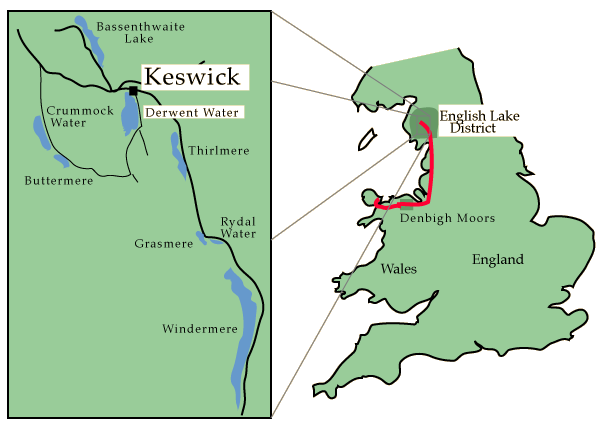 We drove northward past lakes with musical sounding names like Windermere and Thirlmere to the town of Keswick on the north shore of Derwent Water. Mollie and Marjorie had a small hotel there, the Lincoln House, at which they usually stayed. It provided meals and packed sack lunches for us for our day walks. Derwentwater was the most dramatic of the ten lakes that we saw.
Brenda and I got up early and walked out to have a look at Derwentwater. We had breakfast and gathered our sack lunches and headed out.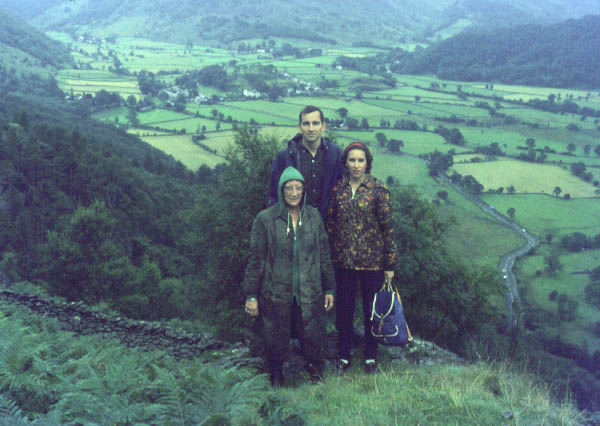 This was a nice birthday hike for Brenda as we headed out to hike around Derwentwater. We were prepared for rain - the lush green of the landscape tells you it rains a lot. But we didn't mind and set out with joy. Rod and Brenda are shown here with Marjorie Whitmire, who knew all the trails well. This is a view of the Borrowdale Valley from up on Grange Fell.
On our first day of hiking we walked several miles up on the highlands east of the small town of Grange, crossing a bracken covered area known as the Grange Fell. The photo above was taken from a high point above the Grange Fell. The picture shows Marjorie on the left, Mollie center and Brenda on the right. The background view is southward along the Borrowdale Valley through which the Derwent River runs.
| | |
| --- | --- |
| | We climbed a peak called Kings How and got a view back to Derwentwater. |
We walked in the rain across the Fell to a small cluster of houses named Watendlath. It was featured in a novel called "Rogue Herries" by Hugh Walpole as well as some other works of Walpole. It rained off and on, as it is wont to do in the Lake District, but we were prepared for that and immensely enjoyed about six or seven miles of walking.
Mollie and Marjorie were wonderful friends to us. Mollie lived just up the street from us in Beaumaris. Her sister Marjorie lived elsewhere but often visited Mollie. They were very enthusiastic walkers and explorers, and since we spent every spare minute doing that ourselves, we were natural friends. We were very grateful for all the places they showed us.