Newlands Valley and Derwentwater
August 27, 1967
Continuing our walk in the English Lake District on the next day, we headed up Maiden Moor with a viewpont of the Newlands Valley.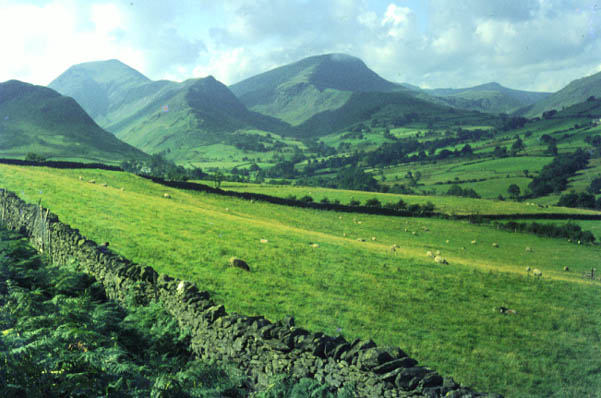 We walked through the bracken to this ancient-looking stone wall to look over the pasture and the beautiful Newlands Valley. The bracken is a fern which is sometimes waist high and always wet. But on this day when we were ready for it, I remember it as being a joy to just wade through the bracken. All this was so new to us that we liked everything. The Newlands Valley ran roughly north and south and was the next valley westward from Derwent Water. We had parked our car on the west side for our climb up Maiden's Moor.
Besides the ordinary sheep like those in the pasture shown above, we saw some remarkable brown sheep. The landscape was invariably lush green in this area.
| | |
| --- | --- |
| | From up on Maiden Moor we got a good view of Derwent Water and the town of Keswick across from us. I was fascinated by the small green islands. |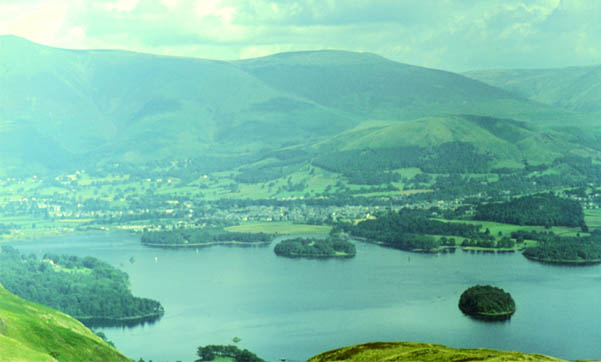 This is a view of Keswick across the Derwentwater from Maiden Moor.
Keswick across the Derwentwater from Maiden Moor.
View of part of Newlands Valley with Bassenthwaite Lake in the distance.
As we hiked by the west side of High Spy, we caught sight of a group of rock climbers. This climber was on the face of Eel Crags. Mollie and Marjorie told us that there were climbers up there often. It was a poplular training area for mountain climbers.
View of Newlands Valley and Newlands Beck (stream) from the upper end of the valley.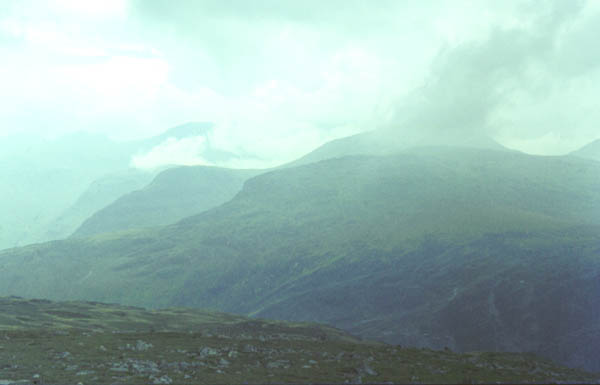 Wild view across the mountaintops.
Our descent down the side of Dale Head was steep and rocky at times.