At Pompano Beach, Florida
August 5, 2002
These two images are indicative of patterns which we developed for the week. Brenda and Rod walked at abouth daylight each morning, and we saw this great white heron at our parking place for our walk at the Hillsboro Inlet, just across from the Hillsboro Lighthouse. It was there each morning, presumably hoping to get something from the early morning fishermen. At right above is a look outward from our balcony toward the area where Jeff and Rod snorkeled each day to the Pompano Dropoff. You can see two darker bands which we take to be the first two reefs we saw on the way out. The Pompano Dropoff is probably about 500 yards out, about the distance to the second boat which you can see as a tiny speck in the center of the picture.
After our walk, we came back to have breakfast together. The morning was a good time to enjoy the company of Jordan and Ashleigh.
After breakfast, Rod settled down with the girls to watch one of their favorite videos, the Disney Robin Hood movie, which happens to be one of Rod's favorites too.
| | |
| --- | --- |
| | Jeff played a game with Jordan where he would cover her up with the cushions on the chairs and then beat loudly on the outside of the cushions as if he were beating on her. Her delight in the game is itself delightful - sometimes the simplest and strangest games bring joy. |
For lunch we went to a restaurant which featured computers so that you could check your email, surf the net, etc., as well as get food. Jeff and Ashleigh worked on the computer while Darla and Brenda made the food order.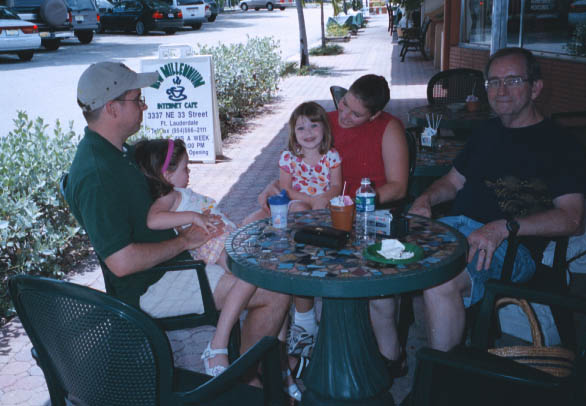 In the afternoon Jeff took the girls for another time in the surf.
Precious cargo!
Ashleigh had enough time in the surf to have some confidence, so she enjoyed playing around in the waves.



| | |
| --- | --- |
| With surf conditions ideal for playing with the girls, this was a time to be treasured. | |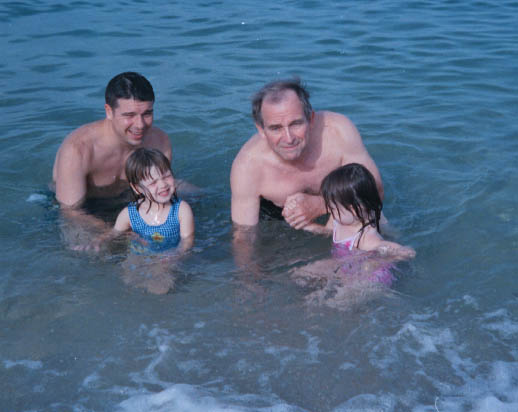 Index
Pompano week overview
2002