RA Camping Trip
November 14-15, 2003
The RAs launched out to Bent Tree, Jasper, GA, for the fall RA campout. We had beautiful weather and were able to roast hotdogs and marshmallows over the campfire. The next morning we went up to the house for a fine breakfast prepared by Brenda, Sherry and Grace Lopez. The photo below was after breakfast as we set out for a hike up the mountain.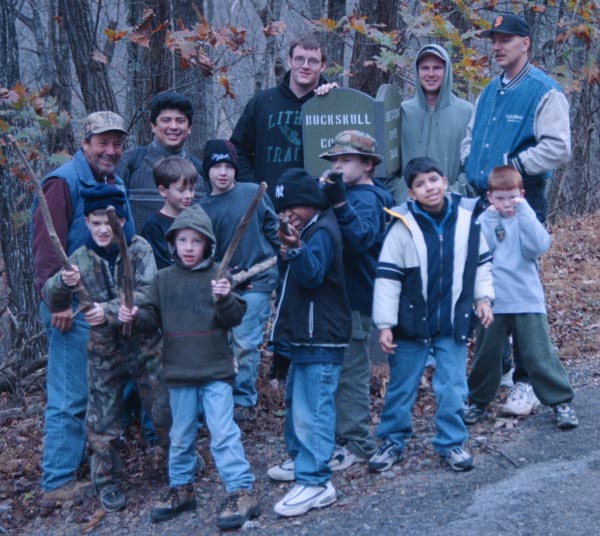 The boys had been playing military games with stick guns all morning, leading to the apparent belligerance of their stance in this picture. This is our traditional picture spot for the beginning of hikes, at the top of Buckskull Court, just down the driveway from the house. The boys, left to right, are Caleb Willis, Erin Shirah(back), Michael Callahan, Mitchell Brice(back),Marvin, Jeremy Chaffin, Kevin Lopez, Andrew Brice. The men, L-R, are Johnny Huffman, Javier Lopez, Michael York, Jason Brice and Ron Callahan.
We hiked up Chestnut Cove Trail and then steeply up a draw to the ridge above the top of Thunderstruck Court. It was a steep climb and we were ready for a water break by this time.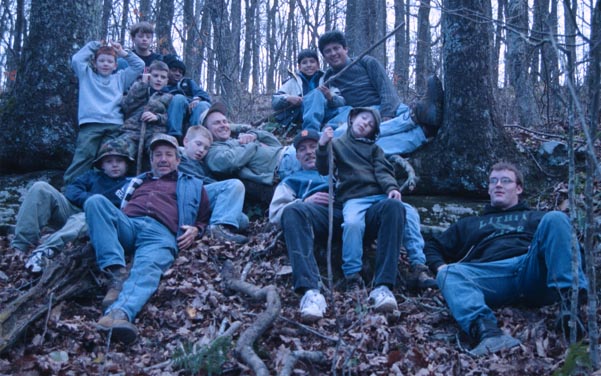 To keep together and encourage exploration, we put our youngest hiker, Andrew, on the point for the steep climb up to the rocky ridge which runs around Big Stump Mountain near the peak. We were all ready for another short break when we made it over that rock line.
We hiked on to the top of Oglethorpe Mountain, at 3100 ft the highest peak in the area. After a break for water and apples and a view of the mountains and lakes to the east, we started back down. At this point we had an overlook of Lake Tamarack on the Bent Tree property, which you can see at the left of this photo.
After the steep climb back down to the house, we went to the spillway on the lake for lunch and then took this photo on the dam overlooking Lake Tamarack.
Index
2003