Sacramento, California
July 30-Aug 4, 2004
| | |
| --- | --- |
| | Marty dropped us off at the airport before 6:30am and it took us until nearly 8 to get through baggage check and security. We had allowed for this and had adequate time to board our flight for takeoff at about 8:30. |
| | |
| --- | --- |
| We taxied out in the typical long queue of planes for takeoff, but things moved rapidly. With planes taking off nearly simultaneously from two parallel runways, there must have been more than a plane a minute taking off. | |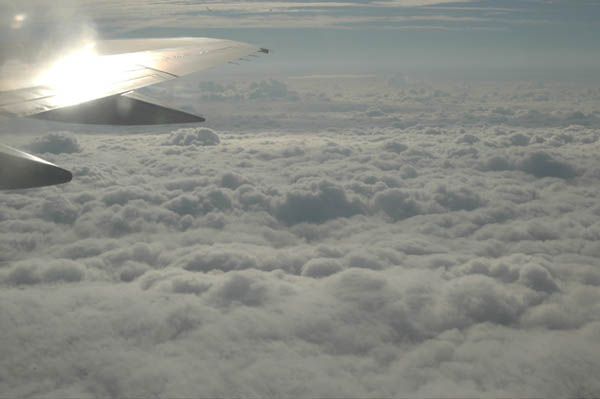 Above the clouds! We moved through low-lying clouds as we lifted off from Atlanta and were soon looking down at a deck of fluffy white clouds in the early morning sunshine.
Solid cloud cover prevailed over the whole eastern United States. We only saw the ground when we got to the desert regions of Utah and Nevada. I still find it very interesting to watch the changing terrain. The apparently deserted highlands show erosion patterns on their sides. The flat valleys show long isolated roads and areas of irrigation.
Scenes of rugged desolation pass beneath us. In the right photo above, there is a winding road leading over the mountains. There is also a long winding stream with a road beside it.
There were some unique areas that stood out in the desolation. At left above is a distinctive area of dunes in the middle of rugged mountainous terrain. At right above is an excellent example of dendritic erosion patterns. The patterns are reminiscent of the stream patterns in the snow I saw in Idaho.
We emerged from the parched areas to land with occasional lakes and then passed over dramatically blue Lake Tahoe, above left. From there on there were other lakes as we entered the area of golden grassy hills.
On the descent to Sancramento we got to see individual farms with green fields interspersed in the rolling golden grass-covered hills. Beautiful hills but dangerous for runaway fires. Closer to Sacramento it became pancake-flat, with neat geometrical green fields.
I was surprised to see so much rice growing. There were fields with complicated contour dikes and some with just straight dikes for uniform slopes. It reminded me of Jackson County Arkansas where I grew up in the rice fields.
Just before touchdown we crossed the Sacramento River. We were surprised to see Charles and Wanda who had come to meet us. We crossed the Sacramento River again on the way to their house in Dunnigan.
| | |
| --- | --- |
| | Wanda with the help of Alma and Brenda fixed up a wonderful lunch of fresh vegetables. |
| | |
| --- | --- |
| It was good to renew acquaintance with Charles' brother Harold and his wife Alma, whom we had met before at their home in Port Orford, Oregon. | |