Jeff and Family Evacuate from Hurricane Ivan
September 13-18, 2004
Time to evacuate New Orleans!

Jeff, Darla, Ashleigh and Jordan came to visit us on September 13 when Ivan was roaring in from the Gulf.
| | |
| --- | --- |
| Jeff returned to New Orleans on Monday, Sept 12 after a professional meeting in Atlanta and then turned around and drove back with the family to Atlanta on Tuesday as Ivan threatened. These two maps show Ivan's position on September 15, so we were doubly glad they had evacuated. | |
When Jeff returned home from Atlanta on Monday he told the girls something like, "Grandmother asked me 'Where's Ashleigh and Jordan?' I told her, 'Wait a minute and I will go back and get them!" With that he packed up the family and drove across the highrise and out to Pearl River for the night to beat the evacuation rush and headed for Atlanta the next morning.
After their baths, Ashleigh poses with the collection of bears.
Jordan with the bears. Of course they had to evacuate their bears with them when they left New Orleans.
| | |
| --- | --- |
| Darla was doing wonderfully with her pregnacy and looked great. This was the first time we had seen her since the California trip. We are looking forward to a new grandchild near Christmas. | |
| | |
| --- | --- |
| | Jordan is up early and joins Brenda for breakfast. |
| | |
| --- | --- |
| Now Ashleigh is up and joins Grandma for breakfast. | |
Affectionate Jordan spends some time with Granddad.

Grandma and Darla went to the Bear Store with the girls and got medical outfits for the bears.
With their medical outfits for the bears, they got into hospital and doctor's office games. Brenda helps Ashleigh prepare to x-ray one of the bears.
Nurse Grandma helps Ashleigh and Jordan check their x-rays.
| | |
| --- | --- |
| The television set is used to simulate an xray machine, and Brenda shows Jordan how to stand to get an xray taken. | |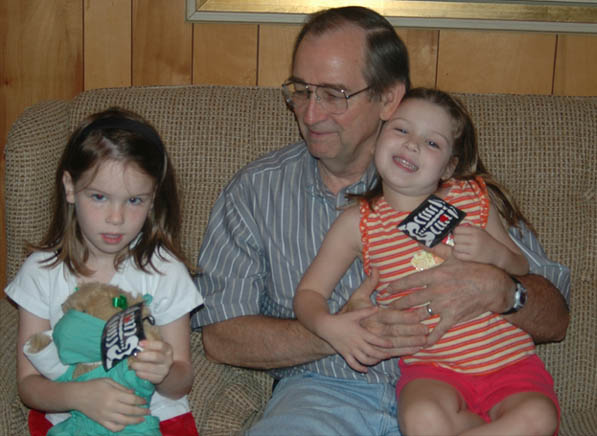 | | |
| --- | --- |
| Granddad gets to look at their xrays. | |
This was a good opportunity for an activity with the girls. They really seemed to enjoy the medical kits and talking about xrays and other tests.
| | |
| --- | --- |
| On Saturday morning they prepared for the drive back to New Orleans. New Orleans had been mercifully spared any severe storm damage, and in fact the remnants of Ivan produced a worse storm in Atlanta than New Orleans got. Nevertheless, we felt blessed to have gotten a visit with them. | |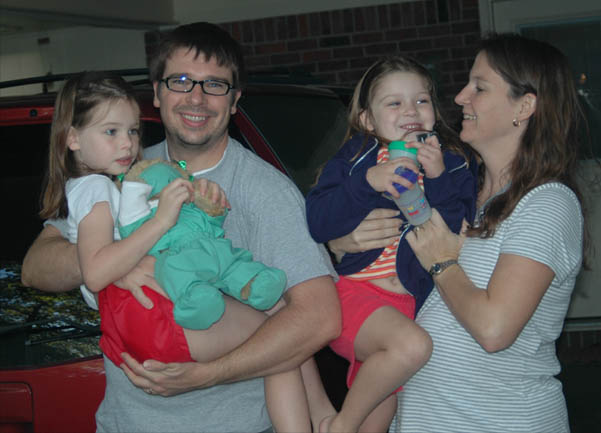 | | |
| --- | --- |
| We always seem to have one of our sweetest times of fellowship on the morning they leave. We have come to relax together and can now cherish the time we have had and look forward to the next visit. We are always glad to have Marty over for that time and we are all together for a short time. | |
Ashleigh and Jordan are in place for the long ride home. They each have headphone sets for the little DVD player and can watch movies on the way.