Tuolumne Meadows: Return from Soda Springs
August 8, 2004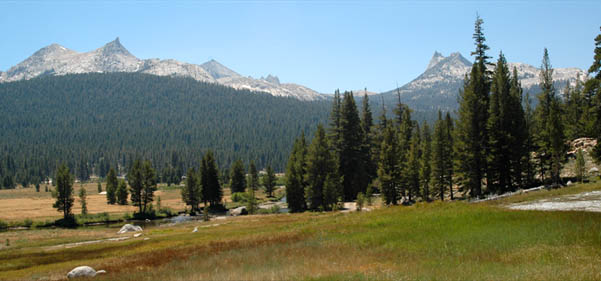 This is a wide view of the mountains from the Soda Springs area.
We stopped by the memorial lodge and Ashleigh and Jordan had their picture taken with the Ranger t here. Our understanding was that she grew up in the area and had spent a lot of time in the Meadows as a child.
The girls enjoyed running and playing along the trail as we started back along the broad path.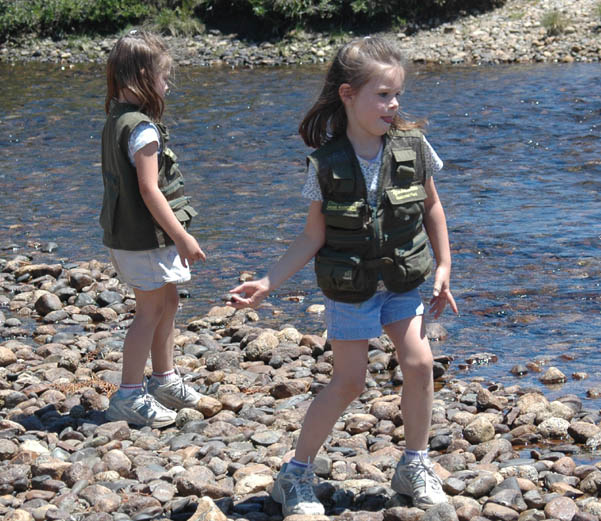 As we came back to the crossing of the Tuolumne River, the girls were keen on throwing rocks into it. We must have spent 30 minutes there with them throwing rocks and having a great time.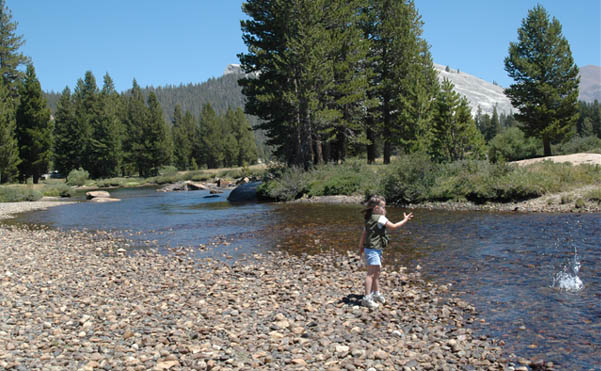 | | |
| --- | --- |
| | Darla coaches Jordan in basic rock skipping. |
Jordan runs along the bank of the Tuolumne River to her Dad, who is filming on that side.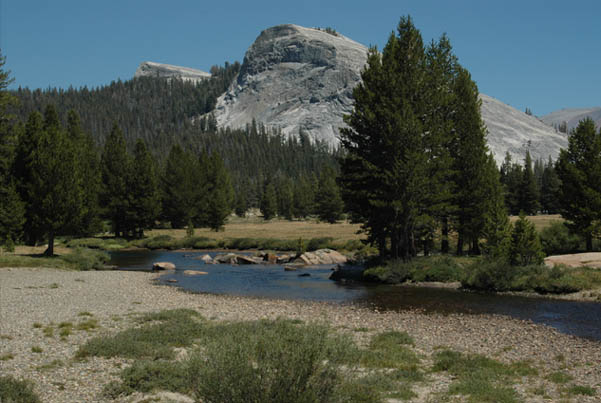 We reluctantly left the area of the crossing of the Tuolumne River - a peaceful area of great beauty.
On our way back, we saw a Ranger coming on horseback. Ashleigh and Jordan were excited to get to pet the horse and talk with the Ranger. He had grown up in the area and had gotten water from the Soda Springs as a boy. It was neat to talk with a number of folks working there who had grown up loving the place.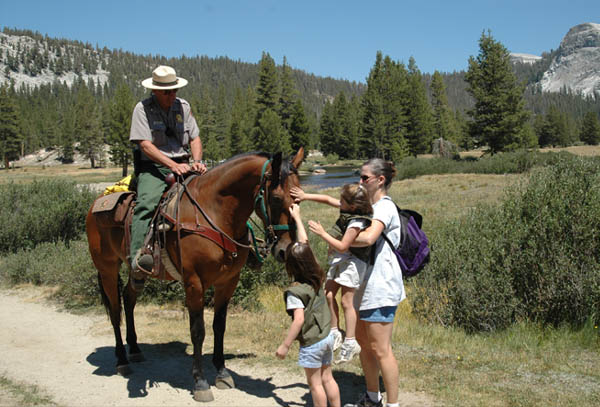 | | |
| --- | --- |
| | Petting the horse was apparently a treat for all three. The girls were delighted and Darla also has fondness for horses from her childhood. |
Even though much drier than on our previous trip after five years of drought, the Meadows continue to offer vistas of great beauty with the combination of grass, trees, water and mountain.
| | | |
| --- | --- | --- |
| | It was exhilirating to see Ashleigh and Jordan run and play in the Tuolumne Meadows. Running in the meadow has been a part of my visualization of the Meadows since Jeff and Mark ran there on the 1982 trip. | |