Nashville and the Opryland Hotel
November 28 - December 1, 2006
| | |
| --- | --- |
| | Thanks to Debbie and Tim for planning and organizing this trip to Nashville to see the Christmas lights. One of our first events was a dinner cruise and show on the General Jackson Showboat. Shown above left to right are Brent and Marria McWilliams, Jon and Elise Rowland with Don McWaters behind them, Bill and Sara Stipe, Joyce McWaters, Rod and Brenda Nave back, Sam and Evelyn Davis front, Richard and Pat Peal, Ruth Floyd, Sara Payne just peeking over, Joan Melton with her friend Marion Presser, Max and Anita Hardie, Sue Polk and Carolyn West with Jean Floyd behind them, Joe and Patty Burkhardt with Betty Barnes behind them, Tim and Debbie Childers, Lucy Durand and Evelyn Holton Price. |
| | |
| --- | --- |
| We embarked on the River about sunset and had dinner in the large dining room as we moved along the river toward the center of Nashville. At the end of this journey we got nice views of the Nashville skyline from the river. | |
| | |
| --- | --- |
| | After dinner was an enjoyable Christmas program of music both popular and sacred. My favorite was a spirited rendition of "Go Tell It on the Mountain". |
| | |
| --- | --- |
| | Our rooms were at the Opryland Hotel, which is one of my favorites because of the large atrium gardens with waterfalls and fountains. |
At this time of year the gardens are even more spectacular with the Christmas decorations. At left above is the Cascade Atrium and at right are some of the decorations in the Garden section. There were special Christmas displays like the snowy village and toy shop in the Garden Atrium.
| | |
| --- | --- |
| | There was a beautiful poinsettia tree in the Delta section, and poinsettias were added in abundance in all the garden sections. There were large nativity figures placed through the gardens, and they were lighted from the inside at night. |
| | |
| --- | --- |
| | The wisemen, shepherds, and other Nativity figures were lighted at night. |
| | |
| --- | --- |
| Past the river in the Delta section and back toward the Convention Center was the largest Christmas tree, towering over four stories. The Cascade fountain below was continuously active with water jets that played around the area. | |
On Wednesday we went to the Opryland Mall south of the hotel to let folks shop, and then we had lunch at the Rainforest Cafe. In the evening we attended the Pam Tillis Christmas Dinner Party.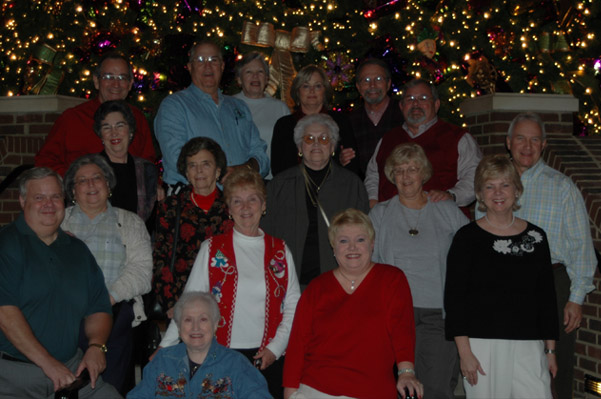 After a fine meal and show, most of us joined at the base of the big Christmas tree for a group photo.
| | |
| --- | --- |
| The trees and the decorations throughout the gardens were lots of fun. Along with all t he Christmas decorations, a lot of their old fun stuff was mixed in, like these horses posing with Brenda. Ashleigh and Jordan liked these when we were here a couple of years ago. | |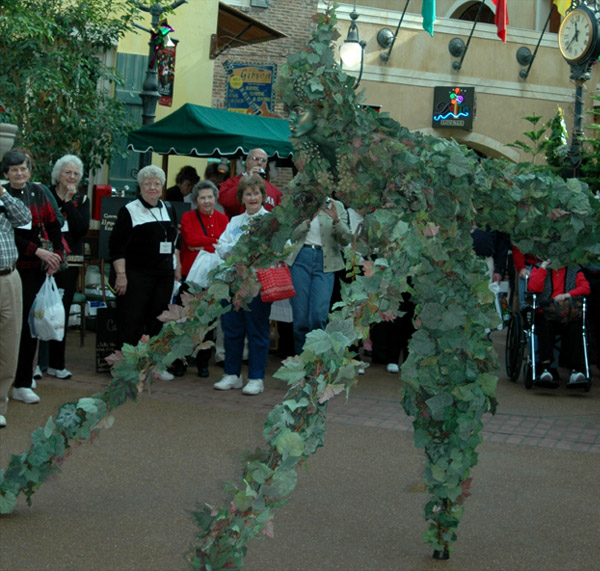 | | |
| --- | --- |
| | One of the most remarkable things we saw was the living, walking sculpture who calls herself "DeVine". With stilts on both arms and legs, this agile young lady walked through the Delta section and did all kinds of athletic poses, sometimes almost blending in with the foliage. Motionless by the lamp post, she looked like she might take root. |
| | |
| --- | --- |
| Moving gracefully along the crowded street, DeVine was certainly well received by the crowd. | |
An inspiring event that we could have listened to many times was the telling of the Christmas Story at the Delta fountain. The action of the fountain was synchronized with the music and the story and it was really impressive.
Index
2006