Children of the World Choir
September 30, 2007
We had the privilege of hearing the Children of the World choir on Sunday evening at Mableton First Baptist. Their tour is sponsored by World Help.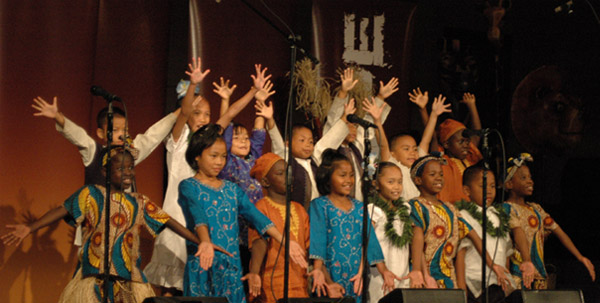 Their performance was amazingly well done. Most of the Christian songs they sang were familiar to us.
The children really seemed to have a good time with their very active presentation.
| | |
| --- | --- |
| Brenda's interaction with Bridgate from Uganda pretty well tells the tale of how friendly, open and affectionate the children were. Then we were privilleged to take Bridgate and three other girls home with us for two nights. | |
| | |
| --- | --- |
| | The children were absolutely wonderful in interacting with the members of the congregation. Everyone wanted to talk with them, and they spoke English well, but the amazing thing was how friendly and open they were. After about a half hour of such interactions, our four girls Angelica, Naomi, Pamella and Bridgate got their luggage and headed for our car with Christine Pueblos from the Philippines, one of the chaperones. |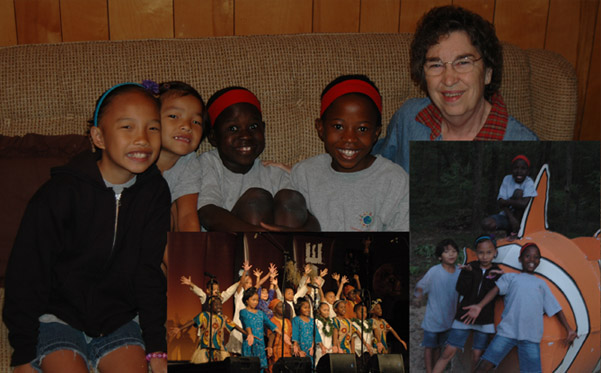 Angelica from the Philippines, Naomi from India, and Pamella & Bridgate from Uganda on the couch with Brenda. This was the composite picture we made for them to tape into their books.
Bridgate from Uganda
Angelica from the Philippines
Naomi from India
Pamella from Uganda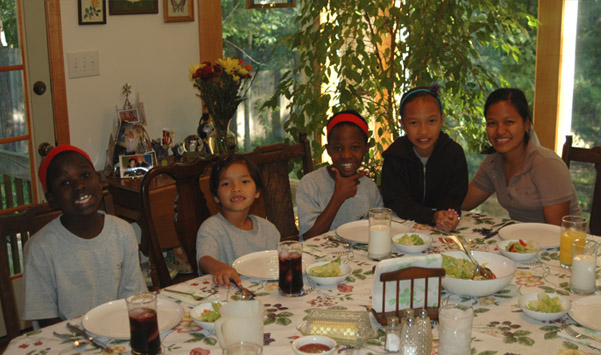 After a day of school work at the church, the girls came back to our house for supper and the evening. Pamella, Naomi, Bridgate, Angelica and Christine.
Brenda took the girls down to the Jackson's to see their chickens, pick muscadines, and explore there. They had a great time. They came back home about dark and enjoyed the Nemo boat in the back yard that Mark had built for a movie.

The next morning after breakfast, I delivered them to the church where their bus was waiting to take them to North Carolina. In a short time they had made an indelible mark on our hearts.
Index
2007