North Georgia Weekend
October 26-28, 2007
| | |
| --- | --- |
| | We drove up to Bent Tree on Friday afternoon and were blessed with a colorful sunset through the trees. This is my favorite time of day at Bent Tree. A wild turkey was scratching around just above the house as we arrived. |
| | |
| --- | --- |
| | As we drove down the mountain toward the Bent Tree entrance, we encountered this doe with her twin yearling fauns. Saturday, October 27. |
We drove to the McWaters on Burnt Mountain Road for a get together of Tip and Betty Curvin's class, Adult 3 Couples. Shown are Betty Willoughby, Dot (Carol's sister), Bailey and Carol Richardson, Bill and Sara Stipe, Carole and Brian Mudgett, Bill and Marjorie Gay, Betty and Tip Curvin, Mary Demming. Don McWaters is standing in the doorway with a camera.
| | |
| --- | --- |
| | Dot, Bailey and Carol Richardson, Bill Stipe. |
| | |
| --- | --- |
| Marjorie Gay, Betty and Tip Curvin, Joyce McWaters, Mary Demming. | |
| | |
| --- | --- |
| | It's always a treat for the guys to visit Don's metal shop for a demonstration. He has a partner in metalworking now, his grandson Winston. |
| | |
| --- | --- |
| On the way back to our house we got a good look at the young buck above by a huge oak tree. They we saw this doe which at first showed us her white flag tail, but then stopped and gazed back demurely. | |
Pumpkin party at Sherry's
For the evening, we went to Sherry's in Woodstock for a pumpkin party to celebrate her birthday.
Our task for the party was to create distinctive pumpkins. Brenda works on one with vegetables for features.
| | |
| --- | --- |
| Work proceeds on the pumpkin creations, with some of the finished products shown in t he inset. | |
Johnny works on a miniature pumpkin, in contrast to two large mopheads at right.
The wild pumpkin makers proceed, and produce some impressive products.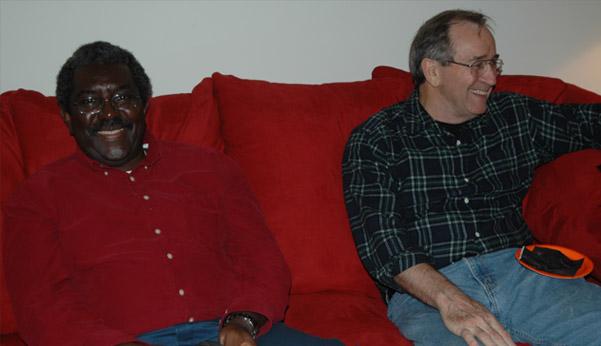 We pause for refreshments while waiting for it to get dark enough to evaluate the jack-o-lanterns.
| | |
| --- | --- |
| Pretty good for "on the spot" creations. | |
Index
2007