Fall family happenings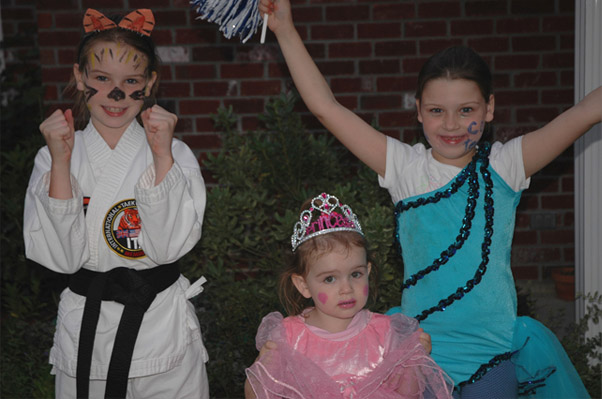 Ashleigh, Elyse and Jordan in their outfits for the Fall Festival at Northshore Church on October 31.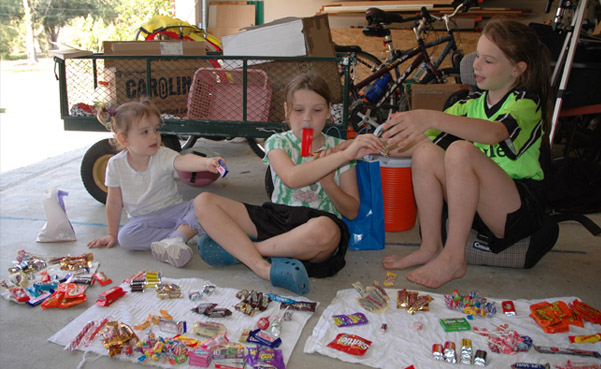 Counting your loot on the day after is almost as much fun as the Fall Festival itself.
| | |
| --- | --- |
| | Jordan and Lindsey were on a soccer team that won a trophy in the tournament. Elise looks on. |
| | |
| --- | --- |
| In contrast to the rough-and-tumble of the soccer field, Jordan and Ashleigh show off their dolls and matching outfits as the prepare to go to a tea. | |
| | |
| --- | --- |
| | This tea is quite a production. A young friend at left, then cousin Bethany, Jordan, Ashleigh, and cousin Jessica. |
| | |
| --- | --- |
| Cousin Lindsey and Ashleigh seated at the formal tea. | |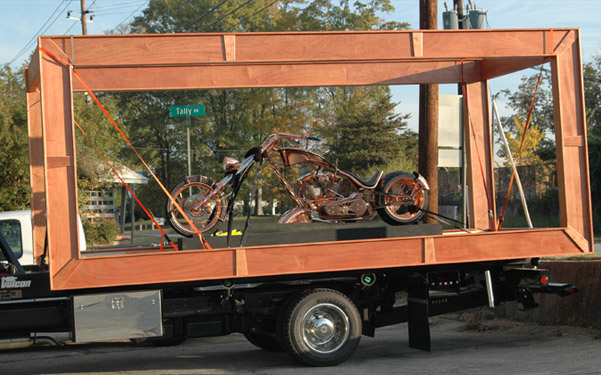 Meanwhile, back in Atlanta, Mark has been intensely engaged in building a float for the rollout of the "Liberty Bike". The float is like a three-dimensional picture frame, designed to show off the bike.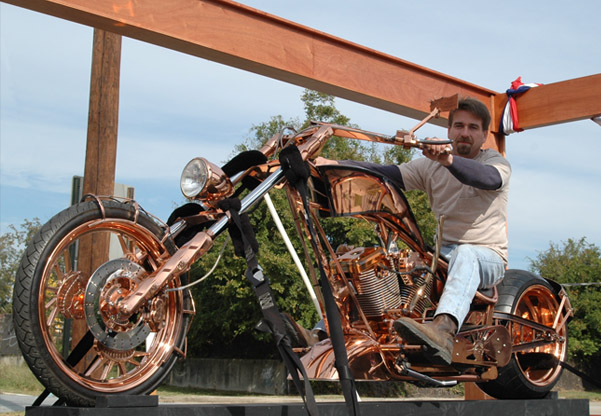 At least Mark got to sit on the bike inside the frame he had built. The float with the bike was in the Veteran's Day Parade in Atlanta on November 11. Mark understood that the bike was now going on tour.

The Liberty bike is entirely plated in copper preserved from The Statue of Liberty. The shift lever, which appears on the left side of the bike, was created from electrical cable that previously lit the torch of Lady Liberty.
The Statue of Liberty Bike or Liberty Bike is a motorcycle that was built by Orange County Choppers on the American reality television show American Chopper. Orange County Choppers was approached by CEO Richard W. Stocks, of Gold Leaf Corp. who also performed restoration work on the Statue of Liberty and maintains artifacts from it, and asked to build a bike dedicated to the statue and freedom. The kicker was they were given a few choice artifacts from the statue itself to incorporate into the bike (the cable that lit the torch became the shifter, for example), and the entire bike was plated in copper from the actual statue itself. Because of the rarity of the artifacts (and the difficulty in replacing even a mundane part coated in such rare copper) chaos ensues over finding small side parts, but the bike makes the deadline as usual, leaving the OCC with another patriotic tribute bike.
Index
2007