Thanksgiving at Home
November 21-23, 2007
After the arrival of Jeff and family and our trip to Nashville, we began preparations for family Thanksgiving at home.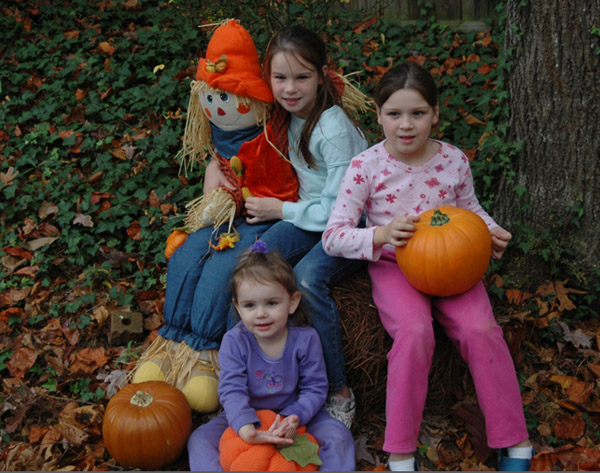 Ashleigh, Elyse and Jordan with Thanksgiving decorations in the back yard. On Wednesday, Nov 21 we decided to get some Thanksgiving pictures of the girls.
| | |
| --- | --- |
| | Elyse with mister scarecrow on a bale of pine straw. The girls enjoyed playing in the fallen leaves in the back yard. |
| | |
| --- | --- |
| Elyse in a leaf pile with the scarecrow. | |
On Thanksgiving, Nov 22, Mark brought out the little motorcycle that had belonged to Bonnie, and Ashleigh was thrilled to get to ride with him up Moody Lane.
Jordan gets her turn to ride with Uncle Mark, and he lets her experiment with the accelerator.
| | |
| --- | --- |
| Elyse has been upset at being left out, but now she has the helmet on and is anticipating her ride with Uncle Mark. | |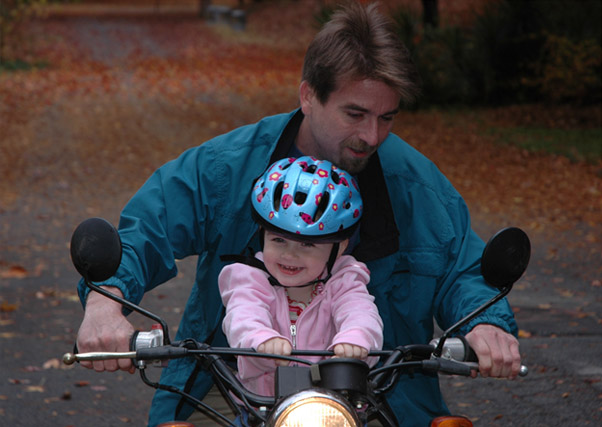 Mark had set his mirrors so he could see Elyse's face, so he could tell if she were frightened. He asked her on the ride if she were alright, and she replied "I'm fine."
Well, OK, I don't need another picture of Elyse on the motorcycle, but she is just too cute to leave it out!
| | |
| --- | --- |
| | Finally time for Thanksgiving dinner arrived. We had 19 persons for dinner, and had a pleasant afternoon of visiting, playing pool, watching football, etc. Present were Jeff, Darla, Ashleigh, Jordan and Elyse, Rod, Brenda, Mark, Sherry, Denise and Roger, Stacy and Darnell, Darnell's sister and her son, Matthew and Brittany, Wesley, Marty. |
| | |
| --- | --- |
| Jordan and Ashleigh latched onto Uncle Mark to sit with them at the table. Ashleigh makes a good attempt at a huge turkey leg. | |
| | |
| --- | --- |
| | Mark tries to pull something up with his laptop on the wireless network, but is getting poked by Elyse. He could hardly move without getting pounced upon by three little girls. They thoroughly enjoyed the attention they got from Uncle Mark. |
On Saturday morning, November 24, we had a nice breakfast with Marty cooking a special pot of grits and Brenda making French toast. Mark came out to join us. Just before noon we circled for our family prayer and Marty took one last picture of the family by the Christmas flag that had just been put up. Then Jeff and family headed out for Pearl River. We had a lot to be thankful for, and we looked forward to our trip to Pearl River for Christmas.
Index
2007