Visit to Destin, Florida
December 27-29, 2008
| | |
| --- | --- |
| | After Elyse's birthday party, we headed out for a 245 mile drive to Destin, Florida to spend a couple of days. We went I-10 from Jeff's over to exit 56 and then down through Niceville and across the Midbay Bridge. Brenda had booked us into Courtyard Sandestin for two nights. |
Having dropped Brenda off to do some shopping at the Outlet Mall, I drove along the south coast below Destin. I enjoyed a V of pelicans overhead, the white sand and gentle blue surf, and closer to the west end at Norriega Point I enjoyed the view of the bay and marina.
How many fishermen does it take to catch lunch in Destin bay?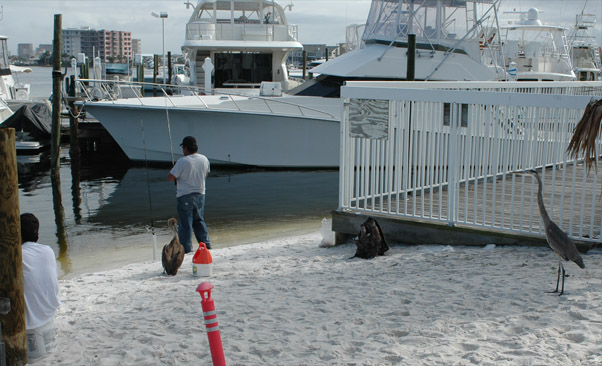 In the case illustrated above, I'm suggesting that the answer is three. Two Hispanic guys were fishing, and the third is sitting on the white plastic bucket at lower left which contains the fish that they have caught. This is the way they have found to keep the brown pelican or the heron from stealing their catch. You can see above that both the pelican and the heron are on their posts with the fishermen. That was so when I walked by the first time, and when I walked back by 30 minutes later. The effectiveness of herons and pelicans in fish stealing can be attested to by Mark and Marty, who experienced it in the Keys in 1991.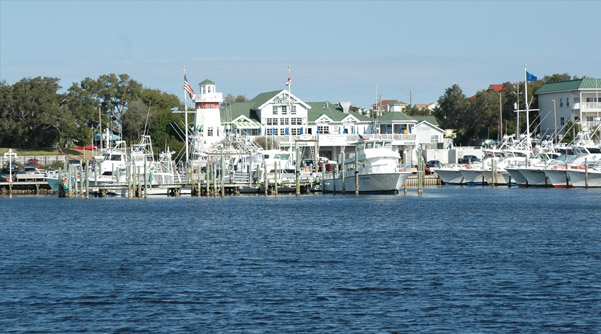 This is the restaurant at the marina in Destin where we had dinner this evening. Of course it was then dark and raining and we didn't get this kind of view, but we had a nice seafood dinner.
| | |
| --- | --- |
| | The pictures above are from Norriega Point, which is at the end of the road shown below the bay across from the Miracle Strip Parkway shown on the map. We accessed the restaurant from that Parkway. |
| | |
| --- | --- |
| This hotel or condo collection at the extreme western end of Destin near the bridge shown below gives an idea of the type of development that exists all along the Destin area. It was shot from Norriega Point, as was the bridge picture below. One of the reasons I liked Norriega Point so well was that it was free of such ostentatious development, and you could just walk and look at things. The bridge is at the extreme left end of the map above and leads to Ft. Walton Beach. | |
| | |
| --- | --- |
| | On Monday morning the 29th we checked out of the hotel and drove down to the beach to walk along it. I enjoyed the gulls and watching the waves. |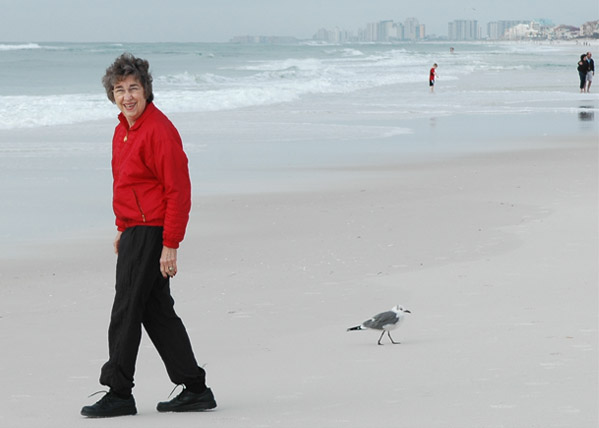 | | |
| --- | --- |
| | We made the drive down to Norriega Point because I wanted Brenda to see the view of the bay, and then we headed across the bay east of Destin and back toward Atlanta, reaching home about 7:30 PM. |
Index
2008