Distant End of Maligne Lake
July 25 , 2008
| | |
| --- | --- |
| Nearing the end of our run down the Maligne Lake, we saw this beautiful example of a mountain with a glacier. I loved the green forest at the lake shore, and the view of the melt stream coming down from the glacier. | |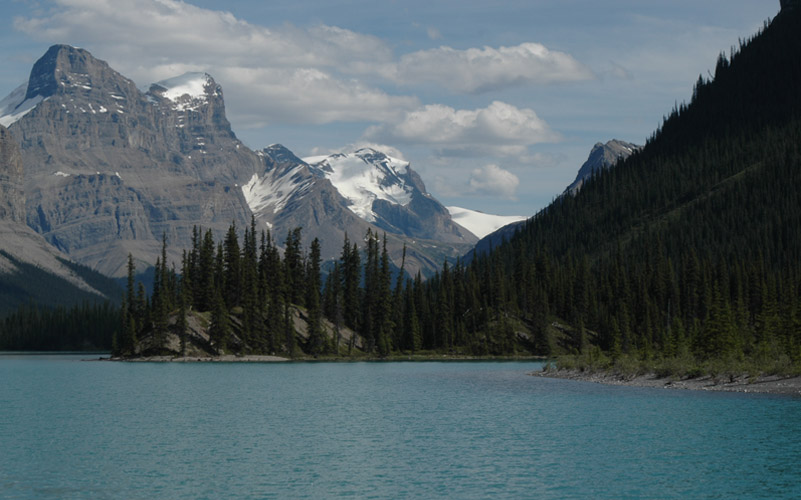 I liked this little rocky peninsula that stuck out into the lake. We were nearing what had been described to us as a box canyon on the lake where the two types of mountain ranges came together.
| | |
| --- | --- |
| This location was about 22km from the dock where we embarked, and was near our first stop. This couple had canoed out here and were looking for their campsite. You can reserve campsites at several points along the lake, but since there are no roads, you have to reach your campsite by canoe. | |
The guide told of two separate mountain ranges, one on each side of the lake, and we traveled down near the end of the lake where there was a box canyon effect where the ranges came together.
| | |
| --- | --- |
| We had a brief stop in the vicinity of Spirit Island, shown above, and the guide told the story of a famous picture there which has been a mural in Grand Central Station and otherwise widely distributed. The photographer had camped five days on Spirit Island. | |
Leaving Spirit Island, we passed by this mountain with a massive wall of ice and multiple glaciers on its flanks.

Maligne Lake stretches 22.5km (14 mi) into the mountains, the longest natural lake in the Rockies. It is up to a mile wide and 150ft deep.
| | |
| --- | --- |
| | We are back on the Maligne Lake Road again for our return trip to Jasper. This road will stick in my memory as one of the best 30 mile drives in the world. These massive sharp rock ridges were unlike anything we have seen in the US version of the Rocky Mountains. |
| | |
| --- | --- |
| On the way back toward Jasper there was a major bear jam where a young black bear was calmly eating berries in a thicket alongside the road. There were two buses and probably a dozen cars stopped to watch him. | |
Index
2008