Thanksgiving Season
November 23-29, 2008
| | |
| --- | --- |
| | One of the things we are most thankful for is the visit of Jeff and family from Pearl River. They stopped off in Birmingham to visit Stan and Kristin Lewis and then arrived at our house on Saturday the 22nd. Jordan jumps right in to helping Grandma Brenda with her cake baking. |
| | |
| --- | --- |
| It is always interesting to see how much the girls have grown since we have seen them. Elyse seems to have grown so much. She also wants to help with the cooking. | |
| | |
| --- | --- |
| Jordan stirs as Elyse adds the nuts. Of course, not all the nuts reach the bowl, but Grandma has allowed for some being eaten. | |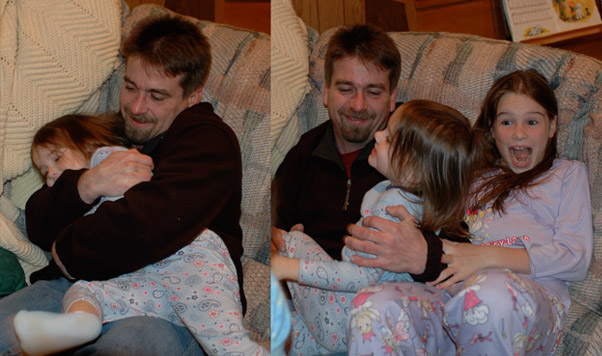 Mark was able to come out in the evening for a visit, and as always, the girls were delighted to see him.
| | |
| --- | --- |
| They all got to go to church with us on Sunday. We grabbed Jeff's family for a quick picture as we were headed out the door to go to the Thanksgiving Around the Table at church on Sunday evening. | |
| | |
| --- | --- |
| | Mark was able to join us for the dinner at church, and Ashleigh and Jordan are pleased to get to sit with him. |
| | |
| --- | --- |
| Marty was also able to go with us, so we had a full table. Jeff and Darla were able to visit briefly with Jennifer Byrd, below left. This was the first time Jeff and family had been able to be at church with us since Stephen became our pastor. | |
The evening featured songs by our preschool choir, shown above, and the children's choir. It was a good time of thanksgiving and family celebration.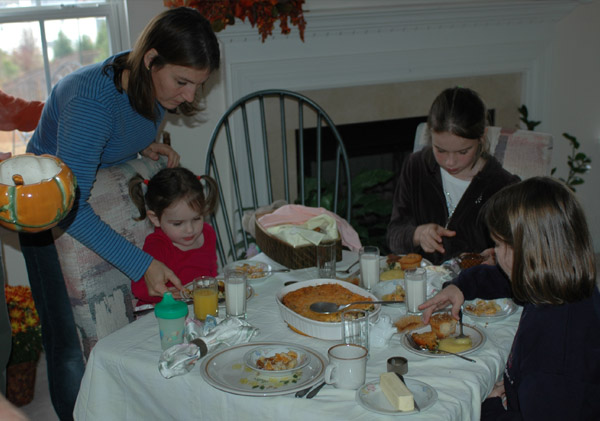 | | |
| --- | --- |
| | On Monday the 24th we went to Sherry's for a nice brunch on our way to Bent Tree. We had supper at the Bent Tree house. |
| | |
| --- | --- |
| | It was pouring rain, but we had a good time at the house. We got the girls their baths and let them play games. Elyse is enjoying having her hair dried by Grandma Brenda. Ashleigh reads a book while Grandma dries her hair - not surprising! |
| | |
| --- | --- |
| The girls like going to the top floor bedrooms under the slanted ceiling. Elyse and Jordan clown around on the bed. | |
| | |
| --- | --- |
| | All three girls on the bed playing games with Grandma Brenda. |
Index
2008