Missoula, Montana
July 21, 2009
Our family flew into Missoula, Montana to stage to Canada via the Going-to-the-Sun Road through Glacier Park. From there we continued northward to Jasper, Alberta.
This is an active map of the trip - click on any of the pictures.
Brenda, Rod and Mark were on the same plane from Atlanta to Missoula, Montana and arrived in midafternoon. We were able to rent a Tahoe van and a small Hyundai car and check into the Hawthorn Inn close to the airport to wait for the arrival of Jeff and his family from Pearl River, Louisiana.

We went back to the Airport to await the arrival of Jeff and family, and finally Ashleigh and Jordan came in the door and ran to hug Grandma Brenda.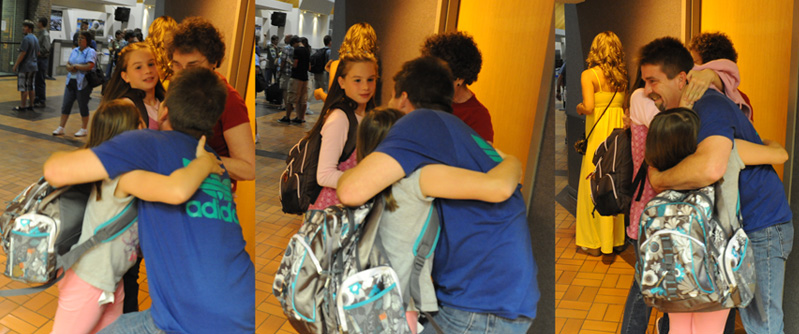 | | |
| --- | --- |
| | Then we sprang the surprise that Uncle Mark had come with us. We had not told any of them that he had been able to free his schedule enough to make the trip with us. |
Then Elyse ran through the door to Brenda and we continued the surprise with Jeff and Darla's arrival. We had not told any of them that Mark was coming.

So we had our first big family celebration of the trip right there in the Missoula Airport. We felt very blessed to get everyone safely there and to begin this trip that we had planned for so long. Praise the Lord!
All eight of us spent the first night in a suite, which was basically one big room with two double beds, as sleeper sofa, and Mark slept in the corner.

The sunset shot below was at 9:10pm local time, but that is 11:10 pm Atlanta time, so we were ready to turn in and get some rest for the journey northward tomorrow.

Northward toward the Going-to-the-Sun Road, July 22

We loaded up and headed out shortly after 8am local time. Going northward on Hwy 93, we were almost immediately in cattle country and enjoyed the background of the mountains.
Index
2009