Maligne Lake Return Trip
July 25, 2009
| | |
| --- | --- |
| | We start our return journey on our Maligne Lake tour through the narrows formed by the forested peninsulas, and I am still mesmerized by the richness of the color of the water and the deep green forests. |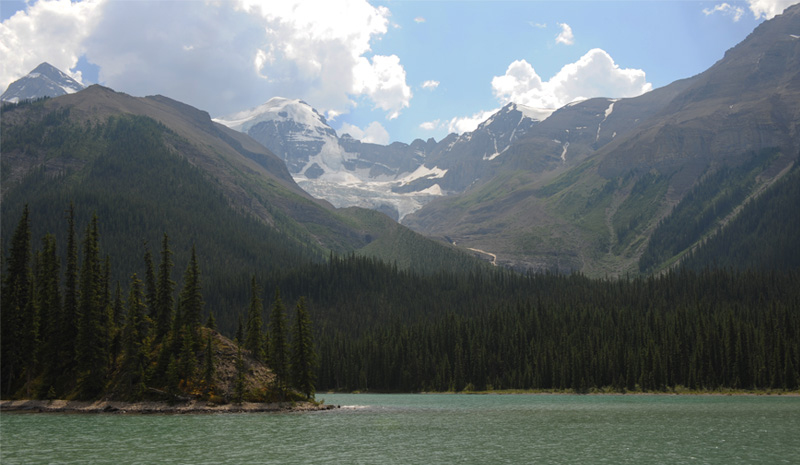 We get another view of this glacier above the almost glowing green forest as we return.

Darla brings Elyse out for a view from the stern of the boat as we pass the glacier.
As we travel back up the lake, dark storm clouds gather over the mountains. But that doesn't dampen the spirits of Darla, Jordan and Ashleigh as they get their turn to observe from the open stern of the boat.
| | |
| --- | --- |
| | There was a curious area on the eastern shore where huge boulders had rolled down the mountain to the water's edge. |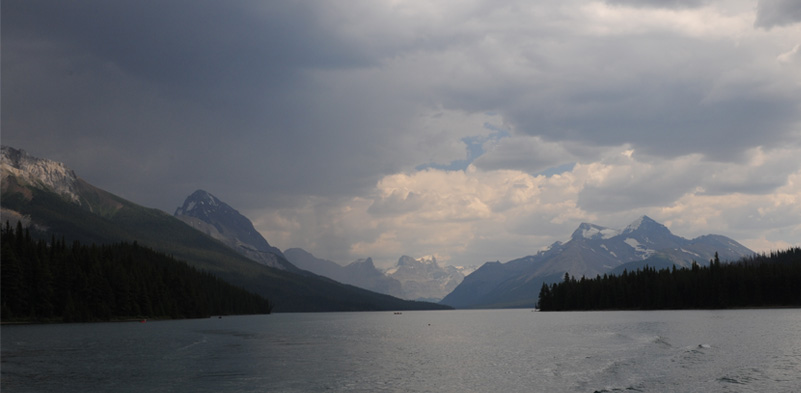 | | |
| --- | --- |
| | The storm clouds grew darker and darker, and we felt for these canoers that were headed toward shelter. |
| | |
| --- | --- |
| The bottom dropped out about the time we hit shore, so the family took shelter while I ran for the car, which was not far away. The thundershower just added to the interest of this fascinating trip up Maligne Lake. | |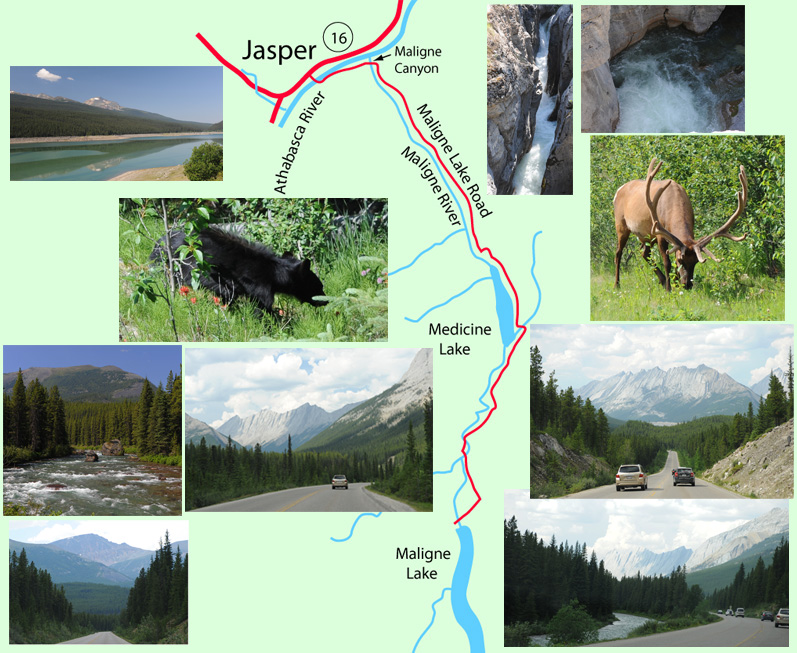 The thunderstorm was brief and we again had good weather as we headed back up the Maligne Lake Road toward Jasper. Note in the bottom right three small images in the composite above that we can see the high rock ridge that overshadows Medicine Lake from a considerable distance to the south.
| | |
| --- | --- |
| A line of vehicles at the side of the road alerted us to the presence of wildlife, and sure enough there was a fine large bull elk grazing beside the road. | |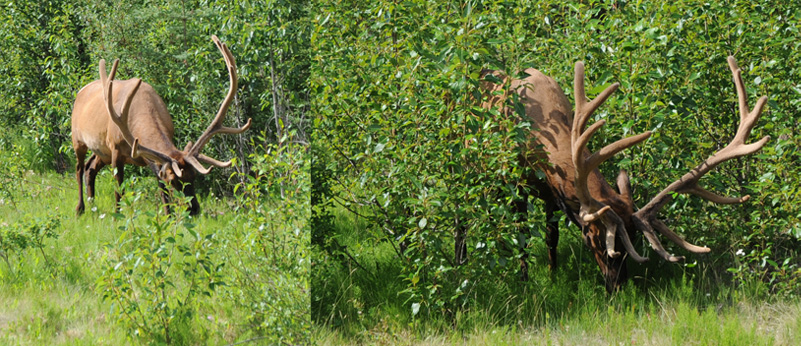 | | |
| --- | --- |
| | As I stood still by the roadway, he slowly grazed toward me and moved through the bushes to give me a clearer view. He struck some nice poses. |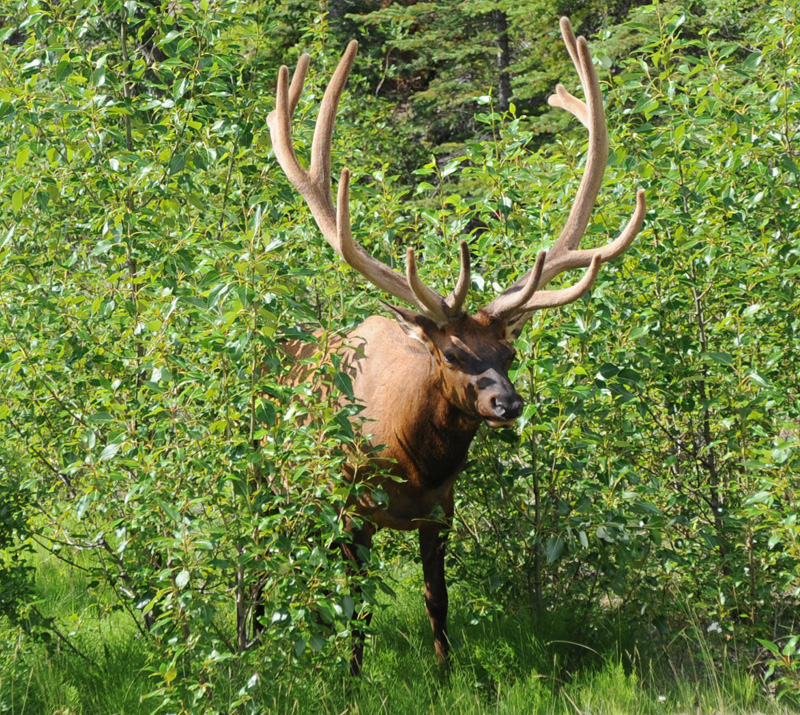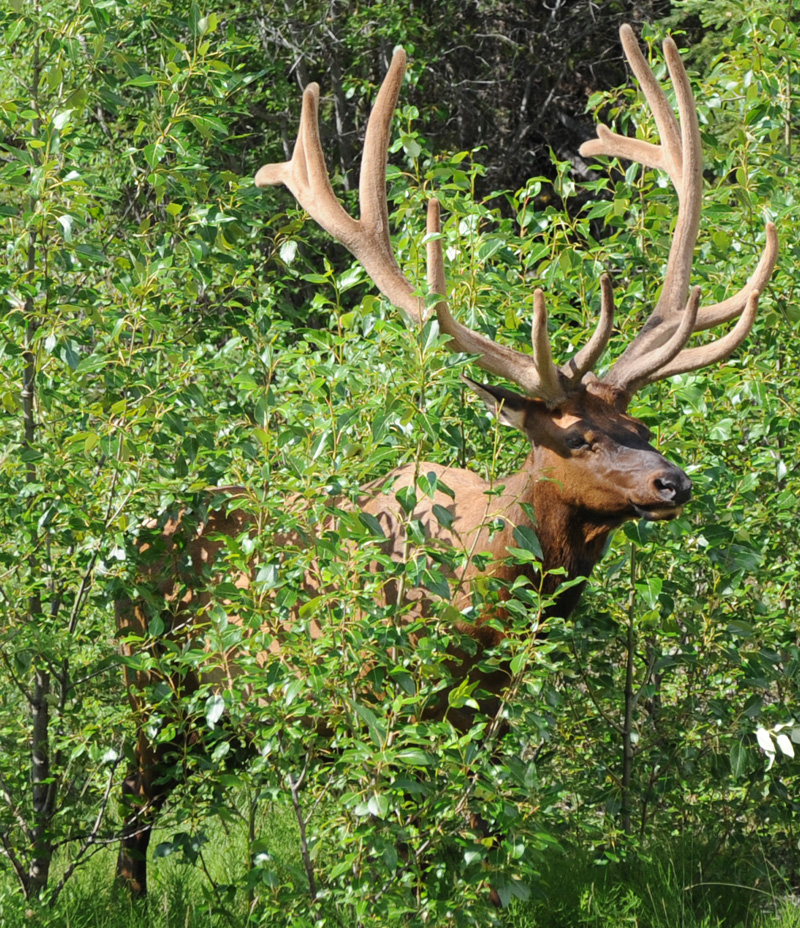 | | |
| --- | --- |
| | I was a little further away from the elk than this girl, but not much. We both made sure we didn't make any sudden moves. Those antlers were truly massive! |
We felt like we had had a very full and rewarding day as we returned to Jasper and settled in for the night.
Index
2009