Christmas Day
December 25, 2010
We arrived from Abita just after Jeff had read the Christmas story, and joined in the fun of watching the girls open their presents. Jordan celebrates a new video at left.

Above left, Ashleigh is excited about getting a long sweater similar to one she wore in the Christmas play.
Both Jordan and Ashleigh got matching jackets for themselves and one of their American Girl dolls.
Grandma Brenda and all of us had a great time watching the girls open their gifts and just sharing the time together.
Rod, always a tool nut, got this monstrous pipe wrench from Jeff and Darla. Certainly can't say he doesn't have a big enough wrench! Jeff got an incredibly bright light for his bike for night riding - it looks as powerful as an auto headlight!
Christmas Celebration at the Moyles
The stockings were all hung by the chimney with care. Having a stocking for each child and grandchild makes a pretty long string of stockings!
| | |
| --- | --- |
| | The occasion started with a pile of kids as the cousins arrived and wound up in a heap of arms and legs in front of the fireplace. |
| | |
| --- | --- |
| This group of kids is really very patient about the gift opening, and the long-standing tradition is to have brunch first and then gather for presents. Grammy reads a story from a Christmas card for the group. | |
| | |
| --- | --- |
| | Jordan Nave,Lindsey Moyle and Elyse Nave certainly enjoyed opening their own presents, and as you can see below, were also interested in what Paps Moyle was getting. |
Ashleigh Nave, Caleb Wells, and Lindsey Moyle brought their family's present to Paps and watched attentively while he opened them.
Grammy Judy and granddaughter Ashleigh enjoy watching Paps open a Wii - that should be an interesting gift.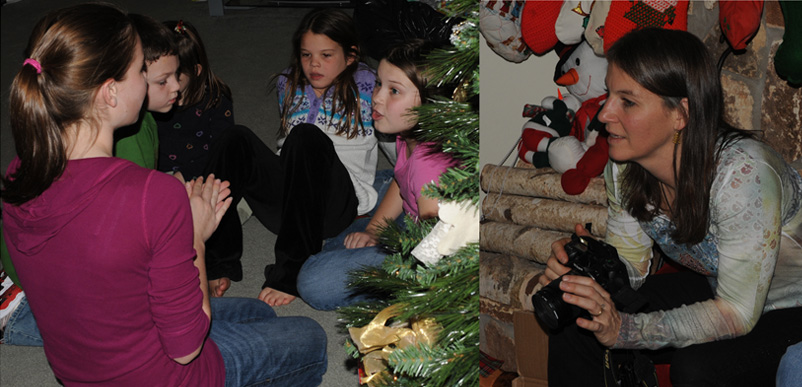 Darla was keen on taking pictures, and there was no shortage of subjects with these active kids.
| | |
| --- | --- |
| | As long as Darla stayed on the hearth with the camera, she was fairly safe, but look what happens when she puts it down! |
| | |
| --- | --- |
| Leaving the relative safety of the hearth, Darla was mobbed by a bunch of kids! There must have been at least twenty of them! | |
| | |
| --- | --- |
| | Ashleigh with Grandma Brenda an with a scarf and cap gift. |
Tom and Debbie Ringo arrived with Jonathan and Jessica, so it was time for the family stocking gifts from the mantle. Caleb and Elyse helped hand out the stockings.
This is most of the folks who were gathered for the stockings. We had a great time with the stockings and gifts and conversation. Sort of left to right are Tom Ringo, Leslie Moyle, Jonathan Ringo, Jordan Nave, Jessica Ringo, Jeff Nave, Darla Nave, Dave and Judy Moyle and Ashleigh Nave to the left of the tree.
| | |
| --- | --- |
| | Diane and Robby help hand out more gifts from under the tree. |
| | |
| --- | --- |
| Brenda and Tom were out on the flank, but were joining in on the fun. | |
| | |
| --- | --- |
| | The Ringos had brought along their dog, Shadow. Elyse took all her gifts over to show to Shadow and tell him about them. At least she could be sure of his undivided attention. |

Jordan enjoyed helping Uncle Jeff Moyle assemble a garden cart for Judy.

We joined in with the family for a Christmas meal, and were much appreciative of being included by the Moyle family.

We dropped back by Jeff and Darla's for a little while and wanted to get a picture of the whole family together. We felt very blessed by all the time of fellowship with the family.
Index
2010